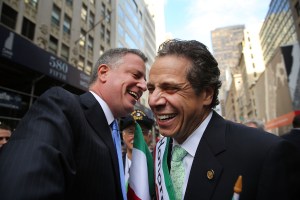 Bill de Blasio may have overwhelmingly won the mayor's race last night, but Gov. Andrew Cuomo insisted today that everyone will have to wait to find out whether he will approve Mr. de Blasio's signature proposal to tax the rich to fund universal pre-K and more after-school programs.
"That's a January conversation," Mr. Cuomo claimed during a radio interview on The Capitol Pressroom this morning.
In the past, Mr. Cuomo has suggested that, while he'll hear Mr. de Blasio's proposal out, he's rather reluctant to allow taxes to rise in an election year when he's trying to bring them down. A New York Post columnist today even predicted "war" between the two pols. But Mr. Cuomo emphasized today that the tax-the-wealthy plan would be a multi-part conversation in the next legislative session, not simply a matter of his own stance.
"You're going to see a transition to government and governance," he explained. "Some actions he'll need to come to the state for approval because they'll need legislation. And then he'll have to talk to the Senate, he'll have to talk to the Assembly and then he'll need to talk to me."
Overall, Mr. Cuomo, who said he supports the general concept of universal pre-K, also made sure to stress his personal relationship with the mayor-elect.
"I know Bill very well. We've worked together in many capacities over many years," he said. "I know when his kids were born. We worked together at the Department of Housing and Urban Development. We worked together on numerous campaigns."
"You couldn't have a better relationship than I have with this mayor," reiterated the governor.