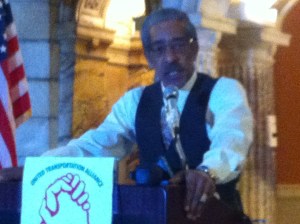 NEWARK – The Communications Workers of America announced the launch of a new labor organization on Tuesday designed to improve the lives of Newark taxi drivers.
Labor officials present at the launch event at Newark's City Hall noted that the approximately 2,000 cab drivers in New Jersey's largest city have difficult working conditions – they work up to 14 hours a day, and they make minimum wage after costs, without basic employee benefits, while driving in a city where murder is just around the corner. According to union officials, the creation of the United Transportation Alliance of New Jersey (UTANJ) will balance the equation between labor and management.
"The days of ripping these drivers off are over," said Chris Shelton, CWA District 1 vice president. "Newark's taxi drivers work long, hard hours with little pay and even less protection. Right now, these hard-working men and women are considered to be independent contractors and not employees. But they're forced to deal with all of the negative disadvantages of being an independent contractor, yet enjoying none of the benefits or protections of being an independent contractor. The United Transportation Alliance will change all that.
"Newark will be the eighth major American city to organize taxi cab drivers," Shelton added. "We now have interest from cab drivers in four other cities in New Jersey. CWA organizers have already met or have spoken with over 300 of Newark's roughly 2,000 taxi drivers, and there are thousands more at Newark Airport, Jersey City and many other places all across the state. We are expanding in earnest."
Numerous political figures were present at the UTANJ launch to offer support, including state Assembly Speaker Sheila Oliver (D-34), Newark City Council President Mildred Crump and state Sen. Ronald L. Rice (D-28).
"There are those in government that would like to see unions' demise, because unions always stood up for working people," Rice said. "But those of us who represent you at the state level will remain committed to working families and organized labor, and we're going to encourage working people to become a part of the labor movement."
After the UTANJ announcement, CWA Local 1039 President Lionel Leach made a disclosure about politics at the municipal level.
"We had our screening with all of the [Newark mayoral] candidates last week, and we will be making a decision [about the union's endorsement] sometime at the beginning of next week," said Leach. "We have about 2,000 members that live in the city of Newark, and close to 4,000 members who work in Newark."
Newark's mayoral candidates, none of whom were present at the UTANJ announcement, need only to listen to the words of one city cab driver to be reminded of a major civic issue: public safety.
"My husband was a leader, and after he died, I began driving to take care of my children," said Socorro Alava, who began driving a taxi in Newark after her husband, Ivan Alava, was murdered in his cab in 1998. "It hasn't been easy, but I've learned a lot out in the streets driving. What's happening here today is something historic. For the first time, taxi drivers are going to be seen as people."