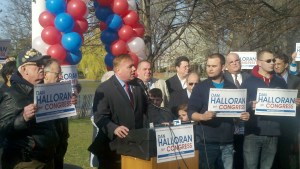 Republican City Councilman Dan Halloran, who was indicted on corruption charges earlier this year, declared today he would be crossing party lines to vote for Democrat Paul Vallone to succeed him in the council–a fact celebrated by Mr. Vallone's GOP rival, Dennis Saffran.
"Voting today -for the first time in my life voting for a democratic city council candidate," Mr. Halloran wrote on Facebook, attaching a photo of Vallone campaign signs.
On Twitter, Mr. Halloran added that his decision "should hardly be a surprise given [Mr. Saffran's] negative campaign and lack of populism in the district."
Mr. Halloran is not seeking re-election for his northeast Queens seat after he was arrested in April for allegedly quarterbacking a major bribery scheme, which the Safram campaign referenced in a statement entitled "DISGRACED, INDICTED COUNCILMAN DAN HALLORAN ENDORSES PAUL VALLONE."
"As Paul Vallone himself said at the Bayside Historical Society Candidate's Night: 'Any Candidate. . .you have to ask them. . . who is standing with you?'" the statement declared. "Now we have our answer."
Mr. Vallone, a political moderate and member of the local community board, was known to be fairly friendly with Mr. Halloran, despite belonging to a different party. Former Mayor Rudy Giuliani also crossed party lines to back Mr. Vallone.
The Vallone campaign declined to comment.