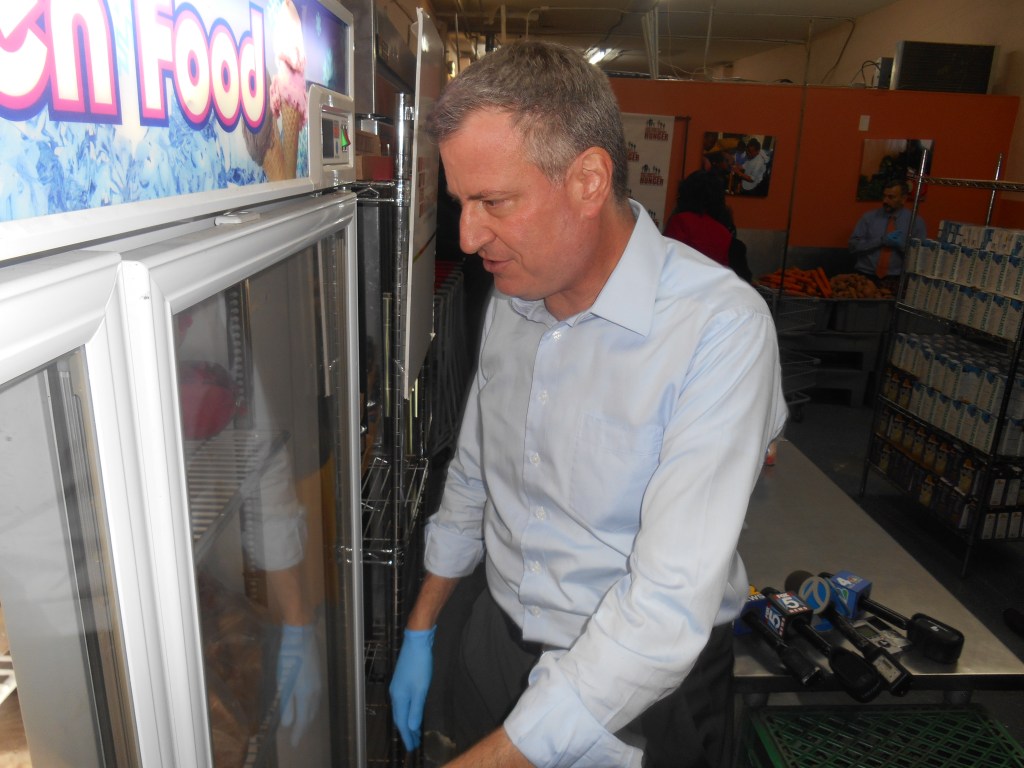 Mayor-elect Bill de Blasio told reporters today that a substantial, organized campaign would soon be launched to ensure the State Legislature approves the centerpiece of his policy agenda: a tax hike on the city's high income earners to fund universal pre-kindergarten and expanded after-school programs. 
Skeptics have labeled Mr. de Blasio's plan quixotic because Republicans in the State Senate and Gov. Andrew Cuomo have publicly stated their opposition to higher taxes, but Mr. de Blasio insisted Albany lawmakers would soon be won over.
"I want to say in the coming days we'll be talking a lot more about a very substantial campaign to ensure that this plan is passed in Albany," Mr. de Blasio said, taking questions at a food pantry event in Brooklyn. "We intend to put together support from all over the city, all over the state, to get a very strong effort to make sure that our children are served and to go into the new year ready to win that fight in Albany."
Mr. de Blasio–claiming "experts" and "opinion leaders" would be included in this concerted push–dropped few hints on what this effort would look like, however. (New York City can't raise income taxes locally without approval from the state government.)
"In the coming days, we're going to announce what the campaign will look like to make sure we pass the tax plan in Albany. We're going to hit the ground running  with a very strong effort to get that passed," he said. "I think you can safely assume that they'll be announcements by the end of next week." 
Mr. de Blasio was further asked if he would take aim at Senate Republicans in particular, who govern the upper chamber in a coalition with four breakaway Democrats that support Mr. de Blasio's proposal.
The mayor-elect would not reveal his strategy but noted today's Quinnipiac Poll indicated broad support for the plan across the state, including 64-percent approval in the heavily Republican upstate region.
"First of all, our focus is on grassroots organizing, as always," he said. "It's about taking the fact that there's this extraordinary public support and organizing it to be felt by members of the legislature. Now, let's remind you: Obviously a number of the Republican members of the legislature come from upstate. This 64 percent of support comes from upstate–it's a very powerful message."