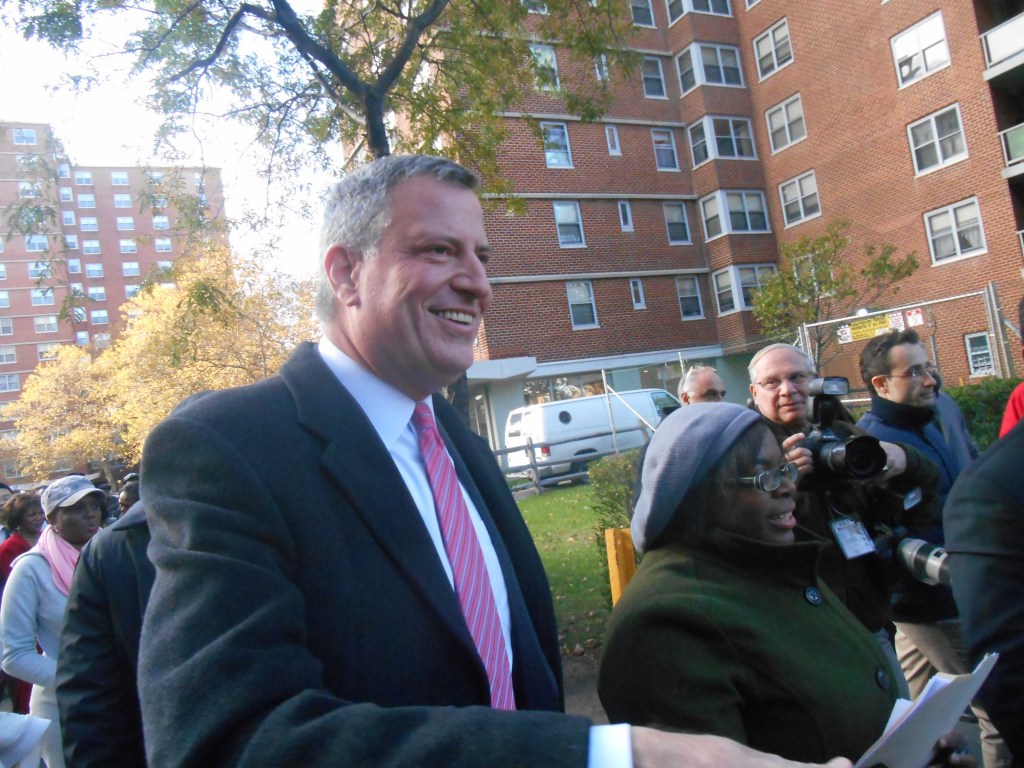 Bill de Blasio tarred Joe Lhota for his close association with former Mayor Rudy Giuliani at a Queens rally in support of the Democrat's mayoral bid today, slamming his Republican rival in a neighborhood where few recall the ex-mayor fondly.
While speaking at a canvassing kickoff event in the predominately black Rochdale Village, Mr. de Blasio egged on his supporters by name-dropping Mr. Giuliani twice–eliciting boos each time. 
"We're at a crossroads in this city. Some tell us we have to choose between safety and civil liberties," Mr. de Blasio said, alluding to controversy surrounding the NYPD's controversial stop-and-frisk tactic. "Some people say you get one or the other. 'If you want safe streets, there's one way to do that. If you want to have freedoms and rights, that's a different thing but you can't have both.'"
"Every time I hear that and sadly I've heard that from our mayor, I've heard that from our police commissioner, I've heard that from Joe Lhota," he continued. "Who did Joe Lhota go campaigning with the other day? His good friend Rudy Giuliani." (Mr. Lhota continued to campaign with Mr. Giuliani this evening and will appear with him again tomorrow morning.)
The crowd–a mix of local residents and elected officials–ringing Mr. de  Blasio jeered. Clearly enjoying himself, Mr. de Blasio name-dropped the Republican once more.
"Again, I said Rudy Giuliani!" he offered.
This time, the boos were louder and more furious, though some individuals giggled as they died down.
Mr. de Blasio performed extremely well in minority communities during the Democratic primary and remains the favorite, according to polls, to sweep up their votes again. Interviews with locals revealed an antipathy for Mr. Giuliani that Mr. de Blasio knowingly drew upon.
"Listen, what's a safe word? Divisive. I gotta say racist," said Timothy James, a community activist from nearby St. Albans, describing Mr. Giuliani. "He balanced the whole budget on the poor because the middle class really disappeared under him. He never once came to those neighborhoods that were looking for help, he never bothered with those who earned less."
Mr. Lhota, distantly trailing the polls just one day before Election Day, has previously defended Mr. Giuliani's record as one that saved many lives, especially in nonwhite communities where violent crime is often concentrated.