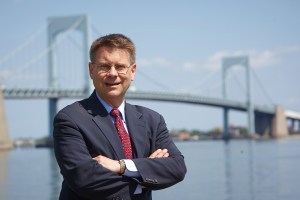 Running in the shadow of an indicted pol of his own party, Dennis Saffran is hoping voters in northeast Queens aren't souring on the Republican brand in one of the few City Council races the GOP can conceivably win this year. 
"Obviously he's a weight on any Republican in this district, though this remains a very competitive district," Mr. Saffran admitted to Politicker in a recent interview.
The "he" is Councilman Dan Halloran, a bombastic yet intriguing force in Queens politics who was charged in April with quarterbacking a bizarre bribery scheme. The sprawling ploy, which roped in the local GOP county organization, allegedly centered on landing Democratic State Senator Malcolm Smith on the Republican ballot for mayor. Mr. Halloran plead non-guilty but chose not to seek re-election.
Mr. Saffran, as he emphasized, is not quite like Mr. Halloran, a one-time congressional candidate, ardent libertarian and avowed pagan. Though he may lack Mr. Halloran's charisma, Mr. Saffran also doesn't carry his baggage: the 58-year-old, up against Democrat Paul Vallone, describes himself as more of a centrist–closer to Long Island Congressman Peter King than small-government gadfly Ron Paul.
"I've always been on a totally different side of the Republican Party than Dan Halloran," Mr. Saffran, a Douglaston-based attorney, explained. "He's a Ron Paul Republican, I'm a Peter King Republican. I really was a Reagan Democrat."
He also said, unlike Mr. Halloran, that he supports the basic idea that government can be an overall force for good: "I'm very pro-union for a Republican. I don't believe in giving away the store to unions but within that constraint, I believe we should try to be as generous as possible to working people."
Mr. Saffran has some reason to hope for victory. His fund-raising kept pace with Mr. Vallone, an attorney and scion of the Vallone political family. The suburban pocket of Queens is home to a sizable number of Republicans and has been represented by Republicans in the city and state legislatures. And in 2001, during his first run for the seat, Mr. Saffran nearly defeated Tony Avella, now a state senator representing the area.
Still, Mr. Saffran faces several hurdles. The Republican at the top of the ticket, mayoral candidate Joe Lhota, badly trails Bill de Blasio in polls which could depress GOP turnout. Mr. Vallone, backed by the real estate industry and law enforcement groups, is also a political moderate with higher name recognition.
Even some local Republicans, in conversation with Politicker, doubted Mr. Saffran could ultimately pull off the upset. After Mr. Saffran featured pictures of former Mayor Rudy Giuliani on his campaign website and kind words the Republican had for him in 2001, Mr. Giuliani made a rare robocall endorsing Mr. Vallone and accusing Mr. Saffran of being deceptive. Mr. Giuliani is an old friend of the Vallone family.
In response, Mr. Saffran's campaign manager, David Zuniga, told Capital New York "it's a shame that in politics, personal relationships can sometimes matter more than a proven record."