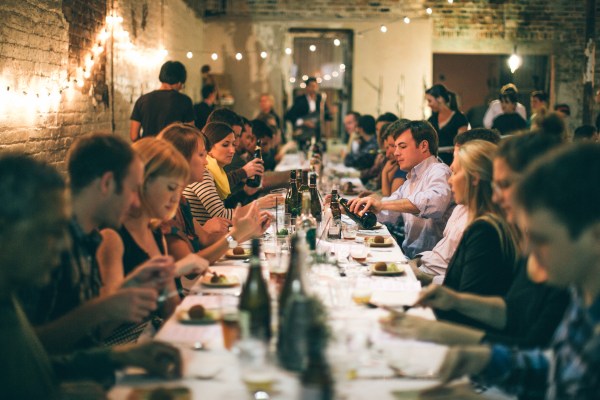 When we arrived at the Dinner Lab event described as "When Land Meets Sea" the door was locked and the doorman was ignoring me. Then we saw the map—handwritten in magic marker, with an arrow pointing behind the building. In the dark, the real doorman asked us what we were there for.
"Uh, Dinner Lab?"
Inside: a construction site filled with picnic tables located next to the Titanic Memorial Park. Cocktails amid concrete. Ten minutes later we were eating quail egg and caviar in the soft glare of rented lights, chatting with strangers who certainly would have been on the first class on the Titanic.
Dinner Lab surprises you. Guests don't know where they'll be eating until the night before, when the email arrives: rooftop, helipad, brothel—or an equally exotic setting. They do, however, know they'll be having a dinner prepared by an elite chef freed from the restraints of her usual employer.
After a meal, we were ready to sign up.
But the wait list for Dinner Lab is currently full – and you can't buy your way in. CEO Brian Bordainick says organizations like the American Express Black Card concierge service will call to reserve spots: "We say, 'The exact reason you're asking is the same reason
we're saying no.' Our demographic is the person who goes to a new music festival the first year and stops the third year because everyone found out."
Now that we've ruined that for them, we've found a few other dinner clubs you might like to try: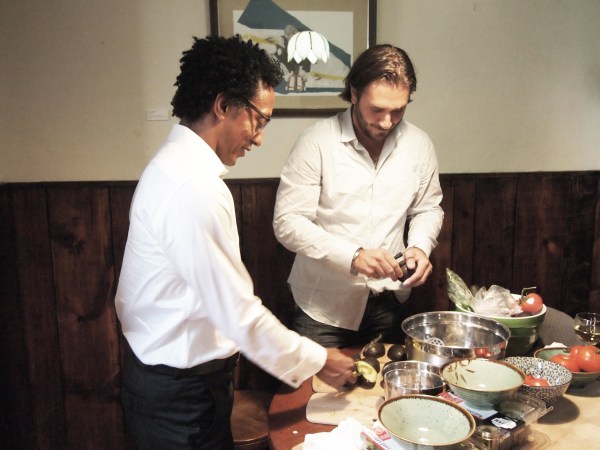 Influencers Dinner
At the Influencers Dinner, your influence is an entrance requirement: just don't talk about yourself at dinner. What kind of influence? Host Jon Levy explains, "There's at best a loose connection between being famous and being influential. The stylist to a group of celebrities has more of an influence on the fashion industry than the person they're styling."
How do I get in?: Occasionally Levy meets someone he wants to invite, but almost all selections are based on the recommendation of former guests. The waitlist is currently 400.
What should I expect?: You'll arrive at Levy's lavish Upper West Side home to be divided into cooking teams. Over dinner everyone guesses each other's occupations, culminating in the revelation of same; as Levy says, "When you don't know what people do, you can't be angling for something." After dinner, a salon features cocktails and musical performances.
Do I need to bring my own wine?: No.
Any famous members?: Stacey London, Cameron Winklevoss, Andre; Tamsen Fadal, Pauline Frommer, Bill Phillips, Anton Fig.
How do I get kicked out?: Try putting your feet up after eating: guests are required to help with the dishes.
a razor, a shiny knife
Best-known as the collective behind 2011's L train dinner party, "a razor, a shiny knife" now run events around the world—recently, a Monopoly-themed charity gala in Panama. Founder Michael Cirino says, "I use these events as an excuse to collaborate with people who are also excited about making food and creating art."
How do I get in?: Sign up for the mailing list.
What should I expect?: It varies. One meal featured all-black food; another recreated an authentic Bensonhurst pastry shop for the birthday of a neighborhood native; one dinner was entirely locally sourced except for the food—the furniture, place settings, and decorations were all from the greater New York area. Recently, Cirino combined acupuncture and massage with a full tasting menu.
Do I need to bring my own wine?: "People can bring their own depending on the event, but usually we've curated the event in high detail. I'm a dominant and my guests are submissives."
Any famous members?: Guests can include "musicians or movie people or Nobel Prize-winning physicists."
How do I get kicked out?: You are expected to enjoy yourself. Cirino is a guilt launderer: "I've absolved the guests of responsibility for the decadence."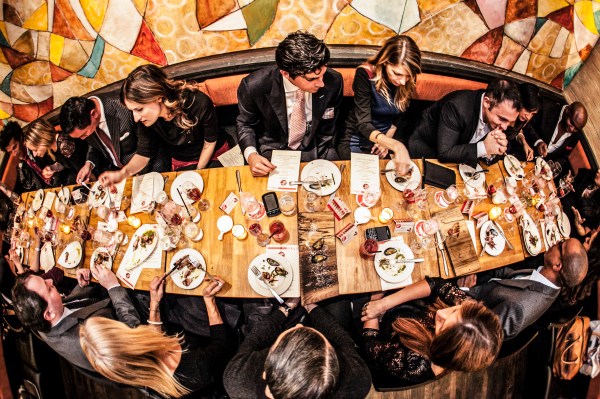 The Supper Club
Tamsin Lonsdale is an English socialite and party entrepreneur; she began her Supper Club in London before importing it to New York and L.A. Locations vary, but events reliably take place in upscale restaurants. Acceptance to the club requires two member referrals, and Lonsdale says "fewer than one in five are admitted."
How do I get in?: First, get accepted. (It helps if you are an "international tastemaker.") Then, pay $2,500 a year.
What should I expect?: Networking; fine food and drink.
Do I need to bring my own wine?: No. Many events are sponsored by spirits companies.
Any famous members?: Lonsdale provided a list of over forty celebrities who've attended events in New York, including Sandra Bullock, Emile Hirsh, and Moby.
How do I avoid getting kicked out?: Lonsdale politely suggests that "the more interactive and engaging [you] are with the other guests, the better." And a thank-you note doesn't hurt.
Les Salonnieres
Adam Aleksander wanted to "bring the most positive people in my life closer together." Early Les Salonnieres events meant dinner and a performance in an abandoned building—burlesque, belly dancers, or a fashion show for ferrets, with a performer Q&A afterward. A former employee of Sleep No More is now Aleksander's co-producer, and his events are immersive: a Brazilian Carnival beach party; a New Orleans-themed dinner; and a Midsummer Night's Dream picnic feast in May.
How do I get in?: Register on their website.
What should I expect?: For the Day of the Dead, Aleksander created a Seven Deadly Sins-themed experience. Instructed to wear a rose in their hair, guests were summoned to a particular street corner by a phone call from an actor playing Dante's Virgil. Following a map, guests encountered personifications of sin: Envy complimented them obsessively; Greed tried to steal from them. Eventually the map led to dinner.
Do I need to bring my own wine?: No.
Any famous members?: "Maybe! I believe in having it happen naturally."
How do I get kicked out?: "I try to take away people's sense of entitlement, take people out of their shells. We make them jump through hoops to get to the venue—they should be game."