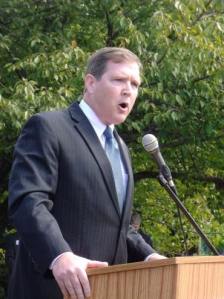 TRENTON – The lawsuit that Jersey City has threatened to bring against the Port Authority of New York and New Jersey has one legislator crying hypocrisy.
Jersey City Mayor Steve Fulop announced today that the city would sue, seeking $400 million in alleged "economic harm'' due to the payments in lieu of taxes agreement, or PILOT, the Hudson County city has with the Authority.
But Sen. Michael Doherty, (R-23), Washington Township, Warren County, a frequent critic of inequities in tax burdens, said Jersey City – according to a 2010 Comptroller's report – had approved $2 billion in tax abatements.
The Comptroller's examination of the consequences of tax abatements stated that based on the 2010 tax rate of 6 percent, Jersey City did not collect $120 million in property taxes that year. The report further stated that that meant the county did not collect $30 million from the city due to the abatements.
Doherty cited that report today as an example of inconsistency in Jersey City seeking $400 million from the Authority when it has other similar tax abatements ongoing.
"The hypocrisy is off the charts,'' said Doherty, who cited this as yet another example of what he sees as the larger statewide inequity regarding suburban and urban towns and unequal taxation.
"It sticks it to the county taxpayers because it's off the books,'' he said of the abatements. "It sticks it to the local school districts because they can't collect taxes on those properties.
"It's an incredible double standard. That's $120 million they could be collecting every year.''
In addition, Doherty pointed out, Jersey City has not had a property revaluation since 1988. Fulop campaigned on a pledge to cancel an already scheduled revaluation, and although he took steps to do so, it was not clear he had the power to scuttle something his predecessor had set in motion.
Hudson County officials said Fulop would have to go through the county to seek approval from the state Division of Taxation to not hold a revaluation, according to published reports.
Doherty referred to one of those statewide examples of inequity, the public funding received by the so-called Abbott school districts.
According to Doherty, when that lawsuit originally was filed, in 1981, on behalf of students in poorer urban districts such as Camden and East Orange, part of the argument was that since the local tax base could not support their education, the wealthier suburban towns had to kick in more.
"Guess what? My taxpayers are paying more and getting less in school aid because of what Jersey City is doing,'' Doherty said. "They're living in this fantasy land where they don't have to do a property revaluation since 1988."
Fulop could not be reached immediately for reaction.
Earlier story:
Fulop says Jersey City will sue Port Authority over $400 million in taxes