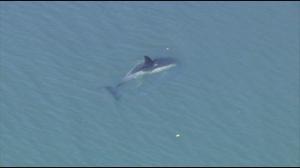 Update: The Coney Island dolphin has died, according to the Riverhead Foundation. Another deceased dolphin was spotted near Point Lookout on Long Island.
Coney Island is not a destination for humans, let alone marine mammals forced to swim in the filthy water, but this morning a dolphin who "appeared to be lost" was found running laps near  Cropsey Avenue and Bay 54th St, in the Coney Island Creek.

NYPD Harbor Patrol have responded to the sightings and are on the scene. The number of confused, sick and disoriented Flippers ending up in NYC's smaller, polluted bodies of water have skyrocketed in the past several years and the number of bodies that have washed up on Tri-State area shores has jumped during the summer months from 2 to 15 in just one year.
So far there isn't enough evidence to attribute the increase to any one cause, but Kim Durham from The Riverhead Riverhead Foundation for Marine Research and Preservation posed a theory earlier this year that wasn't as dark as "poisoned waters":
Durham said people typically point first to water quality as the possible cause of washed-up dolphins and other sea creatures. But other potential factors, including viral or bacterial infections unrelated to the water, as well as an increase in the mammal population, could explain the increase. She said that a whale-watching organization has reported a significant increase in whale and dolphin sightings in New York Harbor this year.
So maybe more whales and dolphins are just migrating towards New York all of sudden for some reason that we shouldn't exam too closely. Just enjoy all the free dolphins, you guys!