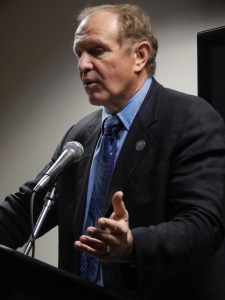 ATLANTIC CITY – Sen. Ray Lesniak (D-20), Elizabeth, wants to attract international gaming companies to New Jersey and if Sheldon Adelson thinks it won't benefiit the poor, the business magnate can lobby his GOP pals in Washington, D.C. for assistance, Lesniak said.
Lesniak's bill, targeted for a Dec. 5 drop date, would authorize the state Division of Gaming Enforcement to provide licenses to companies that offer Internet gaming to other countries where it is legal, allowing overseas customers, including casinos, to place wagers on casino games via the Internet.
"This could make New Jersey the Sillcon Valley of Internet gaming – the mecca of Internet gaming," said the veteran senator, who forsees a Ryder Cup of poker in his home state. "We offer the stability and security of a regulated marketplace, we have an educated work force and a high-tech infrastructure. New Jersey could be a global destination for Internet gaming."
Economist Adam Ozimek of Econsult Solutions estimated Lesniak's vision would create 4,700-4,900 jobs and generate $10 billion in revenue.
Lesniak told reporters that he spent two months finessing this initiative.
The senator addressed the proposed ban of online gaming by Las Vegas casino magnate Adelson, a big Republican donor, who publicly expressed worries about the impact of the gaming practice on low-income people. "Sheldon Adelson is concerned about poor people?" asked a bewildered Lesniak. "Instead of trying to ban Internet gaming, he should be lobbying Washington to help low-income families."