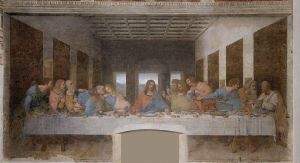 In her new biography Bernard Berenson: A Life in the Picture Trade, which was just published by the Yale University Press, Rachel Cohen offers up a nice little anecdote about the mutual distaste that the Old Master scholar Bernard Berenson and his good friend Edith Wharton had for Leonardo da Vinci and in particular his Last Supper (1494–98). (If you've read Ernest Samuels's 1979 Berenson bio you have gotten a version of it, but I think it's worth repeating.)
During World War I, Berenson wrote a takedown of Leonardo in a tone that, Ms. Cohen notes, conforms rather interestingly with some of the rhetoric surrounding the conflict. Here's an excerpt about the figures at the table in The Last Supper:
What a pack of vehement, gesticulating, noisy foreigners they are, with faces far from pleasant, some positively criminal, some conspirators, and others having no business to be there. … But I never dared say it out loud.
Wharton was enthused, writing to Bernenson in a letter:
I must dash off a word of gratitude & rejoicing; for on the very first page I find are 'excretions' of the Last Supper. Ever since I first saw it (at 17) I've wanted to bash that picture's face, & now, now, at last, the most-authorized fist in the world has done the job for me! Hooray!!!
Hooray!!! "I've wanted to bash that picture's face." So great.
Samuels writes that the essay at the time provoked such an uproar that the Boston Transcript declared, also in rather war-flavored language, that Berenson had "torpedoed Leonardo…without warning and sent him to the bottom." The artist's reputation, of course, has survived quite well.