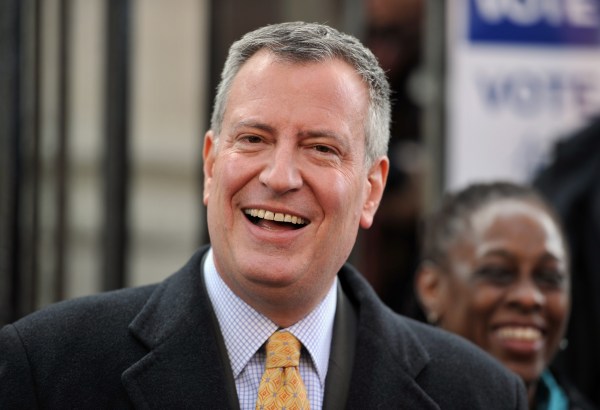 Politically speaking, Bill de Blasio is the luckiest man on the face of the Earth. He will inherit a thriving, dynamic, creative city that is the envy of its competitors. His two most recent predecessors were not so fortunate when they took the oath of office for the first time—Rudy Giuliani was bequeathed a city deemed to be ungovernable, and Mike Bloomberg began his tenure in the shadow of 9/11.
Both men rallied the city through hard times and set New York on a course that few would have predicted at the beginning of their respective terms. Mr. de Blasio is the beneficiary of their policies, reforms and sheer determination. Few mayors have ever been given such a head start.
So now the question is this: What will Mayor-elect de Blasio do with his inheritance, now that he has vanquished an honorable opponent, Joe Lhota? If he can govern with the energy and tactical brilliance that he flashed on the campaign trail, the city is in capable hands. But if he loses control of his coalition, if he mistakes campaign rhetoric for public policy, if he places ideology ahead of pragmatism, the gains of two decades could be wiped out in just a few short years. We're hoping for the former scenario, but we're aware that the latter remains a possibility.
Over the next few weeks, Mr. de Blasio will assemble his team and prepare his agenda for a new and possibly very different era in New York politics. His supporters will be expecting dramatic breaks with the past, but the new mayor should not be so rash. He has to get this right, and he has to reassure those who opposed him that he understands the difference between campaigning and governing.
His first test will come when he begins negotiations with the city's public-employee unions, which have been working without contracts. Many of the unions supported Mr. de Blasio's opponents in the Democratic primary, so he is not as indebted to them as many seem to believe. That puts him in a strong position—let's see if he takes the advantage.
Mr. de Blasio also will have to deal with a stubbornly high unemployment rate of 8.7 percent in the city—down from more than 9 percent a year ago,but still too high. Creating private-sector jobs will require that Mr. de Blasio remain true to his pledge to make it easier to do business in New York, because even after 20 years of better relations between City Hall and the business community, it's still far too difficult to open and maintain a business in New York.
Job creation means more than easing the twin burdens of taxation and regulation, although that would be welcome, indeed. It also requires vision, the ability to understand not just today's job market, but tomorrow's. It was with that in mind that Mayor Bloomberg brought together a historic partnership between Cornell University and Technion-Israel Institute of Technology. The schools are building a world-class campus on Roosevelt Island, and the new mayor should make sure that its talented students have every reason to remain in New York after graduation. Under the right circumstances, technology will create jobs to replace the financial-sector jobs that have been lost for good.
Speaking of education, Mr. de Blasio has made his low opinion of charter schools well known, despite evidence that this truly revolutionary reform is popular with parents in poorly served neighborhoods. So, if the new administration is going to de-emphasize charters, what policies will it embrace to improve public education in New York? One thing must be clear: The issue here is not about resources. Under Mayor Bloomberg, annual spending per student has increased from about $11,000 to more than $19,000. Nobody—save, perhaps, the teachers' union—would say that the city's schools lack for taxpayer support. The new mayor will have to confront bureaucracy and union authoritarianism in order to deliver better public schools.
Mr. de Blasio wants to make housing more affordable, a laudable goal. There are two ways to achieve this. The first option: Create incentives for private developers to build affordable housing in a market where housing is in tremendous demand. The second: Allow city services to deteriorate, crime to rise and schools to decline. That will make housing more affordable, all right, but for all the wrong reasons.
There's no escaping the simple fact that the city's continued prosperity, its enviable place as a city of ambition, depends on public safety. The historic decline in crime over the last 20 years has brought strivers—and tourists—to New York in huge numbers. Mayor-elect de Blasio has to stop poking his finger in the police department's eyes. The NYPD has done a superb job in arresting bad guys, keeping the streets safe and countering the plots of those who wish to murder us on a grand scale. Mr. de Blasio doesn't care much for stop and frisk. What, then, is his alternative?
As Mr. de Blasio, the first Democrat elected mayor since 1989, makes the transition from campaigner to chief executive, he should bear in mind that the city he will lead is home to some of the most philanthropic, creative and successful people in the world. He should see them as resources to be tapped, not as enemies of the people or obstacles to the sort of change he would like to accomplish.
Bill de Blasio inherits a city that is working as well as it has in many decades. He has promised change, and he has won the right to implement change. But he should move with caution, and, when he does move, he should do so at his own pace. We've had some fun taking notice that the mayor-elect is not a morning person, but unlike Mayor Giuliani and Mayor Bloomberg, there is no crisis that needs immediate attention. It will do Mr. de Blasio well to understand the needs of all the city's stakeholders. He has been elected to run a $70 billion enterprise, and the learning curve will be steep. He needs to take his time and make sure he gets it right when he brings on his deputy mayors and top commissioners.
Less than two months remain before one important change takes place: the change in administrations. For now, all New Yorkers offer the mayor-elect their best wishes. He has earned them.