During the recession, as financing vanished and condo prices plummeted, the city's real estate market was flooded with ultra-luxurious rentals. Developers, eager to fill what had been envisioned as condo towers, offered renters top-of-the-line finishes, sprawling floorplans and master-of-the-universe views—perks long denied to those who borrowed rather than bought.
And though such unprecedented luxuries came with unprecedented price tags—a penthouse at New York by Gehry debuted for $60,000 a month—renters materialized all the same. Brokers cooed about this new breed of renter, who preferred a lease to a deed not because of circumstance or financial necessity, but because they craved convenience and flexibility. Not so frequently discussed were the many would-be buyers swelling the ranks of luxury renters who would, presumably, abandon the high-rental market as soon as the housing market rebounded.
Just a few short years later, the luxury condo market has returned with a vengeance. Millionaires kvetch about losing bidding wars to mega-millionaires, all-cash deals are commonplace, and developers are building skyscrapers for billionaires just as fast as financing will allow. Nonetheless, developers and brokers say that the demand for top-tier rentals remains as strong as ever. Apparently, in New York's gaga real estate market, there is room enough for both condos and rentals to flourish.
"What surprised me was how easy it was to rent a one-bedroom apartment for $5,000 or more if it had a nice view," confessed Clifford Finn, the executive vice president of new development at Douglas Elliman.  Mr. Finn oversaw leasing at 8 Spruce Street, the Frank Gehry-designed Lower Manhattan skyscraper that debuted during the recession. "You don't think of $5,000 as a one-bedroom price, but with the service package, amenities and views, people were very willing to pay $5,000."
All of 8 Spruce Street's penthouses are currently rented and there is a waitlist for both the penthouses and larger, three-bedroom units, according to Mr. Finn—though penthouse rents ultimately dropped down into the $30,000s and filling them took about six months. More modest units, on the other hand, rented briskly; approximately 90 percent of the 900 units in the building are currently leased.
"People are more aware of the premium and potential for a top-floor unit. It's not a market that is very deep, but there's an audience," Mr. Finn said, adding that even if such ultra-luxury rentals catered to a "very specific audience" their impact  had nonetheless reverberated through the market.
"People are pushing the envelope. Developers that used to take a somewhat generic approach to finishes are stepping it up and making much bigger investments in their amenities packages."
The days of "vanilla rentals" are long gone, agreed Citi Habitats president Gary Malin. Mr. Malin said that amenities and high-end finishes are increasingly viewed as de rigueur in luxury rental buildings, though he has not seen a corresponding increase in the size of rental units—long one of the major differences between condo and rentals buildings whose developers must maximize the price-per-square foot.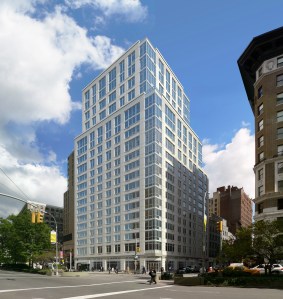 "The typical rental remains studios, one and two bedrooms—it's very rare that people rent massive apartments. Renters don't care about square footage so much as how much it costs to live in the building."
Those costs have become increasingly high. Amy Rose, the co-president of Rose Associates, a developer and manager of high-end rental buildings, said that though the company shies away from what might be termed "trophy rentals," with monthly rents above $30,000, their new Upper West Side development the Larstrand has three-bedrooms that rent for between $16,000 and $18,000 a month. And Rose's under-construction 70 Pine is poised to be Downtown's priciest rental, with prices reported to be starting at $66 per square foot —the net average at nearby 8 Spruce.
"These are targeted to people seeking the most luxurious of accommodations, who want high-end and new. These last few years, the finishes have almost caught up to condo," said Ms. Rose, ticking off the condo-like features to be found in the Larstrand's pricey pads: Bosch appliances, interior lighting in the kitchen cabinets, heated floors and de-foggable three-way bathroom mirrors with built-in TVs.
"Historically, our company has always known that rental is a good investment; there will always be people in the city who want to rent," she added.
And while the demand for sprawling $20,000-plus-a-month apartments may have been somewhat overstated during the recession, with developers trying to spin a less-than-ideal situation, none of the developers whom The Observer  interviewed expressed any intent to pull back now that the condo market has rebounded. In fact, just the opposite.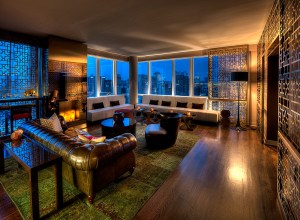 Daria Salusbury, an SVP at Related, told The Observer that One MiMA Tower had recently upped its luxury quotient, turning a high-floor unit into a jewel box lounge for residents. And why not? A penthouse at the Midtown West skyscraper, which switched from condo to rental during the recession, just rented for $18,000 a month and the building is "basically fully occupied," according to Ms. Salusbury.
"We thought that residents really wanted their own exclusive entertainment space, beyond the 44,000 square feet we have on the lower levels," Ms. Salusbury said of the jewel box lounge, going on to describe the customized space where renters can "grab a bottle of Dom and two flutes and enjoy the view."
Despite the resurgence of the condo market, Ms. Salusbury said that Related has no plans to take the building condo, as some developers have. (Dumbo's 133 Water Street is one of the rare local examples of a condo to rental to condo conversion, though such conversions have become increasingly popular in Los Angeles and Miami.)
"As far as the ultra-luxury rental market, we are maintaining our bullish posture," Ms. Salusbury said. "In fact, we're looking to explore more developments along these lines, including possible rental and condo combinations. We're really looking to corner the market."
Though many developers undertook recession-era rental conversions only grudgingly, Related is not the only developer to embrace the rental market in the years since. Especially as many high-end rentals listed by individuals during the slump have returned to the sales market.
When Dallas-based company Invesco bought the top ten floors of Mercedes House for $170 million last fall, they decided to rent the 162 units, which had been set aside by developer Two Trees as condos with the requisite high-end appliances and finishes. Invesco also decided to go the rental route when it snapped up a 95-unit Park Slope development that had  been planned as condos.
In fact, the main challenge developers cited in the current market was one faced long before selecting finishes or floorplans—the difficulty of finding suitable development sites now that the surging condo market has driven up land prices. GDC Properties co-chair Adam Ginsberg told The Observer that with condo pricing so strong, GDC has "definitely been outbid by condo developers."
Ms. Rose echoed his concern: "Now that the price of land has started to go up, we are always, always competing with someone who wants to put a condo there."