The residents of greater 57th Street can finally get a good look at the tower that they so vehemently opposed. Renderings of the 1,423-foot tower, which recently won approval from the Landmarks Preservation Commission to cantilever over the Art Students League, have finally been revealed in The Wall Street Journal.
The design, by Adrian Smith + Gordon Gill (the architects of the Burj Khalifa), shows a skinny glass rectangle shooting up, the cantilever at 290 feet one of its few distinctive flourishes. Unlike its flashier, undulating, two-toned neighbor One57 (designed by Christian de Portzamparc), this Extell tower presents a much more staid appearance. Except, of course, for its incredible height, which is about as showy as you can get. (One also expects that the street level signage for New York's first Nordstrom, which will occupy the base of the tower, topped off by a luxury hotel and then super luxury condos, might add some flash.)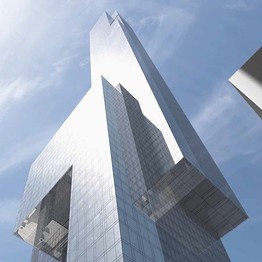 Extell's decision to cantilever the tower over the landmarked Art Students League earned the project the enmity of many in the community, who have also expressed concern over the recent spate of super skinny skyscrapers rising along the avenue. However, other than the Landmarks approval required by this Extell tower and JDS's  57th Street skyscraper, which is rising on part of the Steinway site, the projects have been as-of-right and hence, not subject to public review.
Of course, that doesn't mean they're not subject to the court of public opinion. One more hurdle also remains before construction can begin—according to The Journal, the tower has yet to secure financing.