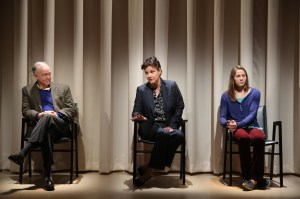 "The following has been taken word for word from interviews and correspondence," says an offstage voice just after the actors have taken their chairs, spread across a bare, neutral-toned stage. "Nothing has been added, and everything is in the subjects' own words, though some editing has taken place. Names have not been changed." It's the start of the excellent and engrossing Taking Care of Baby, which opened last night in the Manhattan Theatre Club's smaller off-Broadway space at New York City Center, and the house lights aren't even down yet. You're ready for an Exonerated-style examination of justice deferred.
And, at first, that's what you get. Truth—or at least the narrative—comes at you indirectly, accretively, as different actors tell their characters' stories: a young woman who has been in prison; an older woman, a local politician, who's her mother; a psychiatrist; her former husband. What eventually comes together is that the young couple lost their children, that the young woman was accused of murdering them and that there's a psychological condition, Leeman-Keatley syndrome, that explains why, in certain cases, mothers might be driven to kill their own children.
Except that, as the documentary-style play continues—there are those monologues, some recreation-style scenes and interview exchanges between characters and the interviewer—it becomes increasingly clear that all of that might not be true. Indeed, what makes the story of this mother, Donna McAuliffe (played by a terrific Kristen Bush), so worthy of exploration is that it's really not clear what happened. Is it simply tragic coincidence, as she claims, that her daughter died of SIDS and then her son was strangled by his sheets? And if it's not, and she did it, is Leeman-Keatley a real thing, a possible defense, or is it just the creation of an attention-seeking shrink?
But what makes the play—by Dennis Kelly, who also wrote the book for Matilda—so impressive is that none of it is in fact true. It's a piece of fiction pitched close enough to from-the-headlines stories to pass plausibly as fact. (Do I remember this news story? you find yourself wondering.) As you listen to these testimonies, and wonder which version is true, it slowly dawns on you that none of it might be. The only real sign, in Erica Schmidt's sharp, forthright direction, is that disclaimer, repeated as some new scenes start, begins to make less sense. Have the names been changed or not? Have the words been edited or not? Did the actor reading the disclaimer slip up, or were those nonsense words? And yet the play, the examination, moves along. As the characters are together puzzling truth and fiction, what can be believed and what cannot, so is the audience.
This is very much an ensemble show, but Margaret Colin, patrician and unflappable, is its star. She plays Lynn Barrie, Donna's no-nonsense mother, a local Delaware politician who tries to save her daughter, protect her family and, not insignificantly, advance her career. She cares about Donna and about her family, but also about managing the story—yet another way in which truth is a fungible commodity. Does she believe her daughter is innocent? Or that she killed the kids but was driven to it by Leeman-Keatley? Whichever version is more expedient, just like her stance on a local megamall, which sometimes she is for and sometimes against, depending on political need. The rest of the cast, several members playing multiple parts, is also fantastic, controlled and convincing, especially Reed Birney, as the publicity-hungry psychiatrist Dr. Millard, and Francois Battiste, as Donna's former husband, traumatized, angry and very reluctant to participate in this documentary exercise.
There are a few false notes, like the character of the reporter who first covered Donna's story, who seems to simultaneously work for a local Delaware paper and also a big-city tabloid (this may be a translation error in the play's move from Britain, where it was first staged, to the United States) and who is surprisingly open with the interviewer about his sex addiction. In the truth-is-stranger-than-fiction category, that character would be plausible if he were real, but he becomes implausible once revealed as fiction.
But, then, who's to say what's plausible and what isn't, what's true and what's not? "The key to treating Leeman-Keatley is teaching people that truth is relative," the psychiatrist says early in the play. Then he pauses and continues: "I mean it isn't. But we have to think that to live, don't we?"
If Taking Care of Baby is a small play making some big points, Little Miss Sunshine, which opened last week at the Second Stage Theatre, is an attempt at a big musical that feels awfully tiny. Adapted from the 2006 hit movie about a quirkily dysfunctional family road-tripping from New Mexico to California and written by the high-profile team of James Lapine and William Finn, the production feels flat and oddly charmless, a worthy attempt, perhaps, but not a successful one.
The music and lyrics are by Mr. Finn, who wrote Falsettos and the 25th Annual Putnam County Spelling Bee and specializes in smart, funny, talky songs. The opening number augurs well. "The Way of the World," a sweetly melodic ode to life's shit that includes some beautiful harmonies and introduces the characters: gay Uncle Frank (Rory O'Malley, handsomely bearded and beautifully voiced), who recently attempted suicide after having his heart broken; Grandpa (David Rasche, channeling the film's Alan Arkin), ribald, drug-addled and old; Sheryl (Stephanie J. Block), the harried, overburdened mother; Dwayne (Logan Rowland), the silent, sullen teenage son; Richard (a miscast Will Swenson), an unemployed former jock pitching a self-help book; and, finally hopeful, oddball Olive (a peppy, bright-eyed Hannah Nordberg), whose quest to become Little Miss Sunshine will set the family on its trek. Other songs are lovely, too, especially the anthemic "Something Better Better Happen."
But the book scenes, especially in the intermission-less play's first half, are dull and uninteresting, with sometimes plodding exposition and insufficient character development. We're told, repeatedly, that Sheryl and Richard's marriage is unhappy, but we're never given much of an interesting or compelling reason why. Grandpa is old and randy, but really not aggressively or distinguishingly so. Even Olive, the one optimist in the family, and the one who pulls them all onto this journey and, eventually, out of their funk, is here a seemingly normal little girl who's a little bit geeky and dreams of being accepted—not the compelling and extreme oddball at the center of the movie. But, then, nothing here is as compellingly offbeat as in the movie.
The disappointing book is by Mr. Lapine, who collaborated with Mr. Finn on Falsettos and Spelling Bee and with Stephen Sondheim on Sunday in the Park with George and Into the Woods. He also directs, with equal disappointment. The ungainly set (by Beowulf Boritt) is a large map of the Southwestern United States that swoops down the back wall, across the stage and over the lip, and, for the most part, the only props are a set of '50s-style vinyl-and-metal dining table and chairs, which serve multiple purposes, including as the iconic Volkswagen bus. The choreography (by Michele Lynch) is basic. It's all supposed to be, as the movie was, modestly low-fi, charmingly quirky. The problem with aiming for small and quirky is that there's not much left over-—here, just some nice songs-—when you miss.
A half-dozen or so years after the first Spiegeltent came to New York, there's a new sexy circus in town. La Soirée has taken up residence at the Union Square Theatre, and, like its predecessor, it offers a mix of neo-burlesque acts, clowning, comedy and feats of strength, all with a mildly risqué tone.
Mild is the key word there, because this new show, which includes strongmen, a juggler, a striptease and several buxom beauties doing sultry shtick, remains consistently titillating but never genuinely shocking or amazing. There are a pair of British strongman acrobats, who contort and cantilever their bodies together in amazing ways, a woman who does disconcerting things with her pierced tongue, a gymnast who twists and turns his way out of a bathtub, and a comic who juggles, rides a unicycle and leads the crowd in a Queen sing-along. But with more of the performances based on dirty comedy than on astonishing physicality, little wows. Your out-of-town guests will be amused.
Put it this way: At the original Spiegeltent at South Street Seaport, I watched a cartoonishly horny emcee fondle and lick the tassled loafer and eventually bare toes of Michael Fuchs, the former HBO CEO, seated in the front row. At La Soirée the other night, I watched a junior banker plucked from the audience attempt to lip-synch "Tonight" from West Side Story. He didn't even know the words.