The way we connect with our friends, fund our businesses, shop online, and catch up on the latest news have changed dramatically in the past decade. Founders on the cutting edge of social media, crowdfunding, e-commerce, business services and online publishing are radically changing the way we behave online — but how much do we know about them? How did the people altering the digital landscape get their start, and where will they go next?
[protected-iframe id="caa1547be9081875ca2a857a1768b087-35584880-53155743″ info="http://embed.newslook.com/newslook_iframe_embed/28a21cec" width="635″ height="358″ frameborder="0″]
In our second installment, we talk with Kevin about how he got his start online, creating several successful companies, and why succeeding in business is a lot playing basketball.
After only a few minutes, anyone chatting with Kevin Ryan can pick up on his relentless energy. As a founder of Business Insider, MongoDB, Gilt and now new wedding registry site Zola, among several other successful ventures, he's clearly not accustomed to a lot of downtime. His entrepreneurial spirit is certainly is at odds with the ur-office drone Dilbert, the comic strip by Scott Adams which gave rise to a website run by Ryan in 1995. Dilbert.com was one of the first e-commerce, ad-based websites at the time, and its creation permanently altered Ryan's career.
"I thought that…the trend [of businesses migrating online] was the most fundamental trend I was going to see in my lifetime," he told us when we visited him at the Gilt offices in Manhattan. Not only was he among the first to embrace the new trend of running businesses entirely online, he had a unique approach to structuring a company and its culture.
"I always thought of myself as a leader and a manager," he told us, and it manifested at a young age. From student council in high school to the Yale College Student Investment Group, "generally when I was involved in a student organization, people ended up electing me as the leader," Ryan said. "And I really liked managing people, and I really thought that running student organizations is great training for running companies…because [your fellow student officers] don't have to work for you, because they don't get paid by you, you have to create an environment that is really fun and makes them want to show up every week." That management style would go on to inform the development of Business Insider, Gilt, MongoDB and now Zola.
The first three might initially appear to have more in common than Ryan's latest venture, Zola. When we asked Ryan about the impetus for founding the company, however, he pointed out that the inspiration for Zola was the discovery of a pain point, or consumer problem, that he had used to launch a new venture several times before.
Ryan offered us a hypothetical: "[Let's say] I get invited to a wedding for a college friend. I go to the [registry and] I see knives, forks, spoons, glasses…[and after my purchase] I'm like 'Wow, I feel so great, I got him four forks.'" The inspiration for Zola was the idea to create a much more personalized registry experience both for the couple getting married and for their loved ones. There's also the desire to overhaul the current online registry standard, which, Ryan points out, "[is generally] just out of 1999." Had the technology improved at all in the time since Ryan got married, we wondered?
"I've been married for about 500 years," Ryan joked, "more specifically over 21 years, so [our wedding] was pre-internet. So we had to go to department stores, there was no…other option at all."
Nearly 20 years into his career as an online founder and entrepreneur, Ryan has quite the varied resumé. The common thread, however, is his focus on the consumer experience. It's that focus that leaves him unfazed at the prospect of entering the already very saturated wedding e-commerce space. "MongoDB has at least seven start up companies with very smart people competing with them," Ryan said by way of an example. "Zola is [mainly] competing with old school department stores," and he's confident that he can beat them.
What about those ventures that don't pan out? As a founder of multiple companies Ryan has definitely experienced more than a few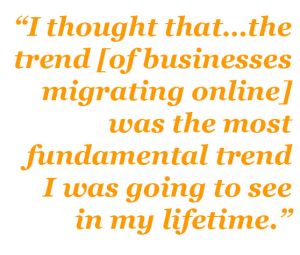 setbacks. "I think it's important to be really realistic that [something is] not working and not wait too long to shut it down…in many cases I see friends [who] are sticking with businesses for too long…and they're convincing themselves because they're naturally optimistic, entrepreneurial people, that it will get better. He knows from experience: "We launched Gilt Taste, it was a beautiful product, probably the best site we've ever launched, and I went to the head of Gilt Taste after two months and said 'It's not working.' And we tried a few more things, and after about six months made the decision to shut it down," he said.
The occasional setback certainly hasn't dampened Ryan's entrepreneurial spirit. As he launches Zola he is also involved in various extracurricular activities, from sitting on the board of the Human Rights Watch to becoming involved in political campaigns. The only thing standing in his way, it seems, is the number of hours in the day. "If I had more time, I would start more companies," he admitted.
In order to find out what's next for Kevin Ryan, you have to get an update on Business Insider, MongoDB, Gilt and Zola. "[Zola] will have the greatest rate of change," he predicted. "Brides are asking us to do baby registries, wedding showers, [and] they're also asking to use the Zola website as the core site for their wedding, so not just the registry but directions, hotels, things like that…[so] we'll consider that." His hope for MongoDb is to grow its market share so that revenue multiplies by a factor of 10 over the next five years, and Business Insider's next goal is to become the number one business publication in the world (when we spoke in October he predicted 28-30 million unique visitors for the month, up from a recent 26 million). Finally, Gilt continues its international expansion and Ryan is weighing an eventual public option.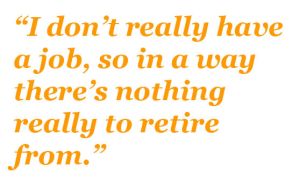 This relentless pace doesn't faze Ryan, who doesn't see himself slowing down anytime soon. "I don't really have a job, so in a way there's nothing really to retire from. I have a series of projects, and my projects often last five, ten, fifteen years." The thrill of creating an excellent product hasn't abated, and he attributes much of that to his emphasis on team-building, going back to those early days in student government.
"Having great people who will create a fantastic product and work really hard, that's really hard to do," he said. "And so what matters in life is to put together a team that's really good. It's not so different from putting together a sports team — anyone knows how to put a basketball team together, [but] does a good team win because they have great strategy? Any fan would say no…[it's because] they have better players. And I think companies are a little like that as well."