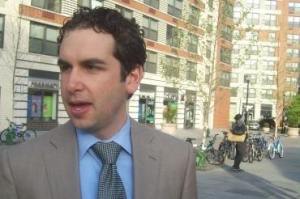 It's pile-on time at the beleaguered Port Authority of New York and New Jersey.
Days after two senators pledged to seek subpoena power to investigate a controversial bridge lane closing earlier this year, the mayor of Jersey City has announced a lawsuit seeking $400 million will be brought against the Authority for missed tax payments and other alleged harms.
First-term Mayor Steven Fulop, who some Democrats consider a rising star politically and possible gubernatorial candidate next time around, said Tuesday that the city will file suit against the bi-state agency for the harm he said his city has suffered.
"This legal action is the result of economic damages caused by the Port Authority's unfair and outdated tax agreements with the City that has resulted in the loss of hundreds of millions of tax dollars over several decades," Fulop said in a release announcing the pending suit.
"The Port Authority has repeatedly failed to fulfill their legal obligations, which has caused a severe negative impact on the Jersey City taxpayers."
Fulop touched on an aspect of dealing with the Authority that other state lawmakers have hit on as well: unresponsiveness.
"Since taking office, I have reached out to officials at the Port Authority both formally and informally numerous times which has been documented, yet they have failed to respond," Fulop said.
"As they have been completely unresponsive, we have no other option but to act on the behalf of our residents."
Last week, Sens. Loretta Weinberg and Ray Lesniak said they would seek to have the State Government Committee granted subpoena powers to get to the bottom of the latest Authority debacle, September lane closures to the George Washington Bridge without sufficient explanation to the public.
Many times, Democratic lawmakers have complained about Port Authority unresponsiveness to queries.
The Authority has a Payment In Lieu of Taxes agreement with the city that is decades out of date, Fulop said.
For example, according to Fulop, for Journal Square PATH Plaza, purchased by the Port Authority in 1967, the agency only pays $87,000 in annual PILOT payments, whereas the current assessed tax rate is $9.5 million.
The Authority came under fire when it enacted steep fare hikes over how it scheduled its public hearings, allegedly making them as difficult for the public to get to as possible.
"If this was any other property owner, legal action would have been taken much sooner," Fulop said. "But because of the political influence of the Port Authority, Jersey City taxpayers have suffered. We intend to right this wrong."
In addition, he said that for all Jersey City properties owned by the Port Authority – excluding the Holland Tunnel, which is tax exempt – the agency pays the City $2.2 million annually. Those same properties are assessed at a rate that would result in $18.2 million in property taxes annually to the City.
The administration will introduce to the City Council at the next meeting a resolution authorizing the hiring of Weiner Lesniak to begin legal proceedings against the Port Authority.
Fulop said that Weiner Lesniak, along with a forensic accounting firm, was able to obtain a $1 billion-plus settlement for Newark over rent underpayment, new revenue for the remaining terms of leases, and winning new methods of calculating payments to Newark.
Previous story:
Resolution seeks legislative investigation into Authority lane closures