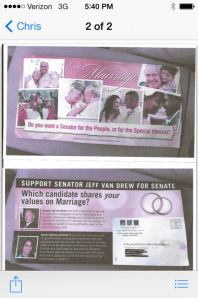 A marriage equality group wants Sen. Jeff Van Drew to disavow a mailer sent out by a group favoring traditional marriage.
The mailer, sent out by a group called N.J. Family First, which opposes same-sex marriage, backs Van Drew, and says he is in favor of traditional marriage.
Same-sex marriage supporters Garden State Equality labeled the mailer homophobic and called on Van Drew, who is seeking re-election in a district targeted by the GOP, to disavow any connection with the mailer.
"In a time when LGBT rights are quickly becoming a non-partisan issue, there is no place for this type of hate in NJ. Imagine the impact this has on young children of LGBT couples who had to read it when they arrived home from school. For an organization to call itself 'New Jersey Family First' and then to inflict this kind of vitriol on New Jersey families is a disgrace," said GSE Executive Director Troy Stevenson in a release.
According to Stevenson, the Republican challengers in LD 1 came out in support of marriage equality after GSE had decided not to issue election endorsements, but as a result of this mailer, GSE may hold an emergency board meeting to reconsider its endorsements.
Stevenson said he had not spoken directly to the Van Drew camp as of late Monday afternoon, but his organization had reached out to Senate leadership.
Van Drew voted against the gay marriage bill last year. His challenger, Susan Adelizzi Schmidt, is in favor of gay marriage.
According to GSE, the mailer went out last week and over the weekend. It asks "Which candidate shares your values on marriage?"
It goes on to say that Van Drew has been "consistent in leading his delegation to be for the people and supports traditional marriage."
It also says that Adelizzi Schmidt thinks "she can take your vote for granted while cozying up to same-sex marriage'' proponents.
Van Drew could not be reached immediately for comment.
Len Deo, president of N.J. Families First, could not be reached immediately for comment about the mailing.