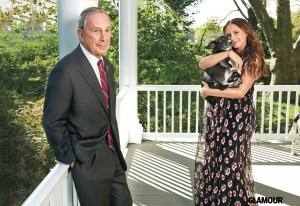 As Michael Bloomberg prepares to leave office, Glamour magazine sat down with his youngest daughter, Georgina Bloomberg, to reflect on what it's like being the daughter of a billionaire mayor who isn't shy about speaking his mind.
And Ms. Bloomberg, who is currently expecting Mr. Bloomberg's first grandchild–a son, due on Christmas Day– revealed that that's actually one of the things she respects most about him.
"My father lacks a filter, and it's gotten him in trouble—a couple of years ago, he gave a speech at the Nathan's hot dog eating contest at Coney Island. It was badly written and cheesy, and he stopped and said loudly over the microphone, 'Who wrote this sh-t?.'" she said in the new interview, which appears in the December issue of the magazine. "Something about that moment made me realize how glad I am that he is my father. He's not just your typical politician: He says what he believes, no matter how it comes out. I willingly inherited that trait, and one day I'll share that story with my son."
She also complimented the way  he's handled two of the most stressful moments of his tenure: the aftermath of the September 11th terror attacks ad his response to Superstorm Sandy. "He knows he can't please everyone," she reflected, "but he balances being sensitive with getting the city back on its feet."
Still, Ms. Bloomberg, described by the fashion mag as "one happy pregnant lady," said she doesn't expect her father–not exactly known to be warm and fuzzy–to be the typical, doting grandparent/babysitter.
"I know we'll find ways to spend time with my baby, even though my father isn't particularly good with children," she said. I'm not sure I'll be having him babysit, but I know he'll be supportive and proud!"
Reflecting on her decision to have a child before marriage, she explained that she's never really envisioned having a cookie-cutter family.
"I never wanted a fairy-tale wedding; growing up I experienced another type of family. If anyone knows that marriages don't always work out, it's my parents," she said of her mother and father, who divorced when she was 10. "Ramiro [Quintana, her boyfriend] and I won't be typical parents, but that doesn't mean we'll be worse parents," she said.
Ms. Bloomberg, who at the age of 19 famously told the makers of the documentary Born Rich, that it "sucks" being a Bloomberg, also said that, 11 years later, she feels very different.
"Today I'm very appreciative of who my family is and how hard my father works," she said. 'I'm proud to be a Bloomberg."