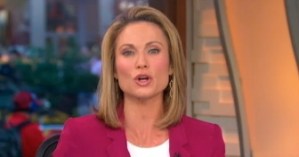 Breast Cancer Awareness month might have become ground zero for some heated debates in recent years, but we can't deny  the benefit of all that ubiquitous pink-colored coverage. Just look at Good Morning America's Amy Robach, who underwent her first mammogram last month, on-air, for a segment promoting awareness. She admitted that she had to be talked into "demystifying" the procedure by her co-host Robin Roberts, who is herself a breast cancer survivor.
"Like so many women, I just kept putting it off," Ms. Robach said today, after announcing the test had come back positive.
[protected-iframe id="b3d75c16f16c63df96851d95b50080e7-35584880-35147716″ info="http://cdnapi.kaltura.com/index.php/kwidget/wid/0_aynj50o9/uiconf_id/5590821″ width="392″ height="221″]
On her ABC blog, Ms. Robarch announced that she will be undergoing a bilateral double mastectomy on Thursday. She will also be taking a hiatus from GMA while she focuses on her health.
I was also told this, for every person who has cancer, at least 15 lives are saved because people around them become vigilant. They go to their doctors, they get checked.