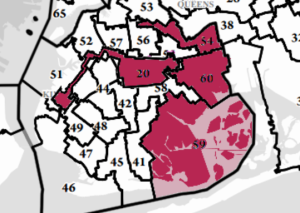 Gov. Andrew Cuomo doesn't have any plans to fill vacant seats in the State Legislature through special elections, despite the approach of a new legislative session and many seats to fill.
"We don't have any plans right now to call special elections," Mr. Cuomo told Politcker at a Hurricane Sandy-related press conference on Staten Island today. "It's a balance of the cost and the hardship of the election versus the community's right to representation. But we don't have any plans as of now."
With the elections of Senator Eric Adams to Brooklyn borough president and Assembly members Vanessa Gibson, Inez Barron, Alan Maisel and Rafael Espinal to the New York City Council, there will be at least five vacant seats without representation come January in the city alone. Appointments to the de Blasio administration or borough presidents' offices could further thin out the ranks.
Under state law, only the governor can decree a special election to fill the seats before the regularly-scheduled election next year. In that case, the governor would set the election date and local party organizations would be allowed to select their candidates without primaries.
But special elections also embolden county organizations and, if they are prolonged, can become costly. After a bribery scandal in May ensnared several city GOP county organizations, Mr. Cuomo refused to call special elections to fill several vacated seats.
Instead, off-year elections (state elections occur on even numbered years) were held for the seats that once belonged to Vito Lopez, a former Brooklyn party boss who resigned after being accused of sexually harassing his staffers, and Nelson Castro, a Bronx pol who resigned from his seat after serving as a cooperating witness for federal prosecutors.
The legislative session begins after the New Year but it is not yet clear when regular primaries will occur. There has been talking of moving the date to June from September, but the legislature hasn't yet been able to agree upon a date.