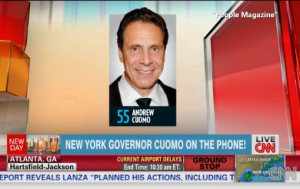 It wasn't enough for Gov. Andrew Cuomo to revel in being named the sexiest 55-year-old alive.
He had to rub it in his younger brother's face.
Speaking in an Albany radio interview earlier today, Mr. Cuomo bragged about calling into 43-year-old Chris Cuomo's New Day show on CNN to tout his sexiest-man award from People magazine.
"I did get a chance to really torture my brother Chris with it though today," recalled the elder Mr. Cuomo, who used the opportunity to jokingly remind his brother that only one member of the family had earned the prize.
"I called into his show. Because, you know my brother, Chris, thinks he's quite the looker … and he delights in his appearance. So I did enjoy calling him up and making the point that he didn't make the list; I did make the list," he told The Capitol Pressroom's Susan Arbetter, one of many reporters to ask about the magazine this week. "But I assured him I am sure he was close to making the list anyway."
On CNN, the governor told the show's audience that it was "obvious" why he was on the list and his brother wasn't. "Any observer of the situation, I think, would come to the same conclusion. But I do feel bad that Chris isn't on the list," he said.
"I'm glad that you have nothing better to do than to call me about this," came the brotherly reply.
Meanwhile, on the radio, Ms. Arbetter also asked about Mr. Cuomo's disproportionate support among women in today's Quinnipiac University poll.
"Historically, I have always done better with women than men. And I don't know exactly why and I don't want to even speculate Susan because no good can come from the speculation," he said with a laugh.
"Look how uncomfortable it makes you talking about it," he added after he was compared to actor Colin Firth in a follow-up question. "Can you imagine how uncomfortable it makes me talking about it?"