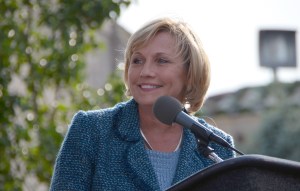 ATLANTIC CITY – A year after Hurricane Sandy canceled the annual event, the superstorm that devastated the New Jersey coast took center stage at the New Jersey League of Municipalities conference.
Lt. Gov. Kim Guadagno's speech at the league's annual luncheon focused on the relationships built since Sandy hit the Jersey coast and the importance of not forgetting the good that was accomplished since Sandy made landfall. The storm, which also propelled Gov. Chris Christie's approval ratings, was the central focus of the acting governor's address.
"What we really need to do right now is celebrate the stories," Guadagno said.
"I have to reflect on just a minute on not only where we are today, but how different New Jersey can be," she said. "We have to continue moving ahead."
Guadagno spoke at the league conference while Gov. Chris Christie is in Arizona at the Republican Governors Association annual meeting. Christie is taking the reins as the group's chairman.
The second in command to Christie indicated a tax cut proposal is on the governor's mind and suggested a battle is brewing between the GOP governor and the Democratic-controlled Legislature.
"We're going to have a fight over tax reduction for all of us [and] that is a good conversation to have," she said.
"The words principle and compromise are not mutually exclusive," she added.
Prior to her speech, Senate President Steve Sweeney addressed the crowd and spoke about the importance of bipartisanship.
"The only way we're going to continue to move this state forward is by working together," Sweeney said. "[Voters] like bipartisanship."
The top Senate lawmaker pointed to voters electing a Republican governor and Democratic Legislature as proof that New Jerseyans support Republicans and Democrats working together – a common theme trumpeted by both Sweeney and of Christie.
"They want us to work together to get things done," he said.