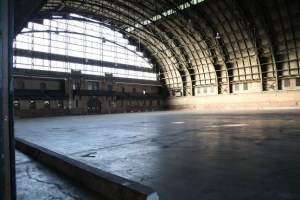 The community has a lot of ideas about what it would like to see  the 138,000-square foot Bedford Union Armory become: a massive roller skating rink, community athletic facility, theater or concert venue. Now developers get to weigh in. The New York Economic Development Council is moving ahead with the redevelopment of the Crown Heights armory; this afternoon it announced a request for proposals.
The city acquired the property in August 2013, as part of a longstanding agreement between the city and the state that allows the city to take ownership of defunct armories. Though defunct, the building is hardly decrepit: it was in continuous use between its opening in 1903 and 2011. "The building itself is in great shape," said an EDC spokesperson, explaining that a potential developer will only need to build-out the space, not undertake any kind of structural overhaul.
Still, redevelopment won't exactly be cheap: though the EDC has no estimates on how much the structure's transformation might cost, by comparison the Park Slope Armory, which now houses a YMCA, required a $16 million overhaul.
As for the RFP, it doesn't exclude any possibilities, including residential (indeed, a report authored by grad students at New York University's Wagner Capstone suggested that residential towers on part of the property might help to pay for the structure's transformation). It does, however, ask that proposals "ensure a substantial portion of its uses are community-serving," preserve the character of the facility, respect the surrounding neighborhood context and incorporate principles of sustainable design. It should also "expand quality jobs for local residents and maximize permanent employment opportunities for the City's local and disadvantaged residents." Which, if the Kingsbridge Armory is any indication—plans to build a mall at the Bronx structure were scuttled over a living wage dispute—could be a pivotal part of community, and thereby city, approval.
In any event, the EDC couldn't have picked a better time to redevelop an armory in Crown Heights, which is basically the hottest neighborhood in all of Brooklyn. (We really, really hope it doesn't become yet another upscale "flea" market, though at least Brownstoner's Jonathan Butler, who has staked out the next spot in his budding empire at nearby 1000 Dean Street, probably won't be submitting a proposal.)
The proposal will need to steer clear of overlap with the redevelopment of the nearby Bedford Atlantic Armory, also in Crown Heights, which last year put out and RFP to redevelop approximately 50,000 square feet of space (the rest of the armory is used as a homeless shelter)—rock climbing walls and concert venues were floated as ideas for both armories. The EDC said that they are in the process of selecting a developer for the Bedford Atlantic Armory.
"I am ecstatic to see that, after more than two years of community engagement by my office, we are seeing significant movement toward the repurposing and redevelopment of the Bedford Union Armory," said outgoing Brooklyn Borough President Marty Markowitz, who last year pledged $1 million in capital funding for the armory's redevelopment, in a statement. "This amazing facility will become the 'crown jewel' of Crown Heights–a fantastic community space in a neighborhood underserved in recreational and community facilities."
An information session on the armory's redevelopment is scheduled for November 13 and proposals are due January 23.