I'd heard about Greg from other girls I'd worked with—cocktail waitresses and bartenders—but when I first met him, in 2009, he appeared no different than your average wealthy, white man. In his late 40s with blue eyes and gray hair, he seemed the kind of upper-class suburbanite who might play golf at some country club on the weekend. Which he did. 
Still, I'd heard the stories. And I was intrigued or, rather, completely jealous, since Greg (not his real name) was known to shell out large amounts of cash—by his count, he has spent more than $1.5 million—on high-end footwear for his inner circle of women who allowed him to play out his particular brand of sexual fetish. In fact, he had become something of an urban legend among service-industry women by the time we connected. He was our patron saint, aka the Shoe Guy. And while he may be feared as a hard-ass despot at work, where he's the boss, I have him saved in my phone as Sissyboy Slave.
The nickname is well-deserved. On our first night together at a nightspot in Midtown, Greg began by licking the bottom of my shoes. He proceeded to lick the bar's toilet and then had me feed him cut-up pieces of my pantyhose. After that, I kicked him in the balls. Repeatedly. I didn't quite understand why he insisted on this mix of foot-focused humiliation and pain, but it was just what he wanted, and he paid me $800 for my trouble. 
Next time, we met at the Christian Louboutin boutique in the Meatpacking District. He bought me and another girlfriend each a pair of $2,000 heels. In return, we poured toenail clippings salvaged from recent pedicures, much to the confusion of the poor Korean ladies performing them, over his crab cakes at dinner and spit in his drink. When Greg ordered a beer, we snuck it to the bathroom, and my girlfriend filled it halfway with her urine. He was extra pleased to find it was still warm. 
It was weird, I admit, but I also began to find it somewhat exhilarating—not in a sexual way but in the way you get a rush after shoplifting; it's the thrill of transgressing the norm, of "being bad." At the end of the night, he gave us each $900. 
I thought: I could get used to this.   
Our relationship continued intermittently from there. Greg would pop into bars and lounges where I worked, knowing I kept a box of toenail clippings for him. One time, Greg, who is very active on Facebook, bought me a flight to Miami. In turn, I posted a load of foot photos for him as status updates. My boyfriend found this somewhat suspicious and asked if my vacation album was for people with foot fetishes. Whoops! 
And yet I'm a very minor character in a much larger story. I asked Greg if he would tell me this story, and he agreed—in exchange for a pair of my dirty underwear and being allowed to massage and smell my feet during the interview. So I met him at a restaurant downtown, with freshly pedicured toes and a thong I'd just worn to spin class.
***
Greg's earliest memory is of the girl next door. He was 4 at the time and can't remember her face or her hair or even her name, but he distinctly recalls her red toenail polish and leather sandal straps, soft and darkened from sweat. At 10, he started asking his sister's cheerleader friends if he could sniff and kiss their feet, especially after cheer practice. They obliged but thought nothing of it. 
The first girl to consciously pick up on his fetish was another girl next door. She was 12; he was 14. The relationship began when she took off her sock, unprovoked, rolled it up and shoved it in his mouth. He felt an adrenaline rush of humiliation, and he was hooked.
When he left for college, however, he felt he had to repress these urges, which wasn't easy. He started drinking heavily. The only outlet he had was the care packages his neighbor sent, containing her old shoes and batches of dirt-filled cookies. "My roommates always wondered why I didn't share my snacks," he told me with a smile.
While the psychological community generally believes that fetishes develop in adolescence, Greg is very clear that his started long before puberty and he suffered no childhood trauma. Instead, he believes he was born this way. When I shared Greg's story with Dr. Annie Sprinkle, a noted sexologist and the first porn star to earn a Ph.D. in human sexuality, she explained that, while most people have several mild fetishes, Greg seems to have an extreme one, which she added is more common in men than women.  
"My friend Wink had an extreme foot fetish," she said by way of example. "He got it when he was about 8, and his mother dropped a knife onto her sandaled foot while she was cooking." She screamed; Wink got his first erection.
Whatever the cause, Greg doesn't feel he needs to plumb the depths of his psyche, comfortable in his own skin (or someone else's pantyhose). "I hate the term 'perv,'" he said. "It's a bad label. I prefer to label everyone else as vanilla and too afraid to explore what they really want to do."  
Then again, it took him years to arrive at that comfort level. After college, when Greg moved to Manhattan, he began frequenting strip clubs and rediscovering his urges. He would buy lap dances and use the time to give the dancers foot massages. Slowly, he began to incorporate pain and trampling into his fetish.  
"The strippers used to walk and stand on me like a doormat," he remembered, as he rubbed my feet in the Bowery Hotel lounge. "Even the floor managers would come into the VIP room and join in the trampling while convincing me to go for another hour." 
It was at the bar of one of these strip clubs that Greg met Kate, an art student working as a bartender. He started tipping her extra to spit in his drinks and asked if she had heard about him from the dancers. She had and was completely unfazed. 
"She was the first woman I ever asked out," Greg admitted, adding that he's drawn to women who are struggling or in pain (Kate was abused as a child). When I asked him to explain this, he laughed and said, "Oh, yeah, I have a savior complex." 
***
At this point in the evening, Greg and I had moved on to BondSt for sushi. He took out my dirty thong and began cutting it up, sprinkling the pieces onto his tuna tartare. "I like to swallow them to increase the humiliation," he explained, which Dr. Sprinkle suggested could create an "Alice in Wonderland effect": "He can become smaller, and the woman becomes bigger, more powerful," she said.
Grinning like the Cheshire Cat, Greg took a bite of his appetizer and then began to tell me about the next important woman on his fetish timeline: Melissa. 
An aspiring writer and ex-stripper, Melissa became something of Greg's de facto wing-woman in 2001, helping him approach other candidates. In fact, she created the protocol that has become his standard: Never go for the new girl; find the one who has been there long enough to start hating it—the jaded, angry one, someone who will delight in dumping a tray of drinks on him and making him lick her boots. 
With Melissa as his partner in crime, there was a safety net. They could go anywhere, and it all went on under the noses of the mostly male management. "Men don't notice details, nor do they pay attention to what other men are doing," said Greg. The manager of a high-end steakhouse, for example, once sat down with him at dinner and didn't notice the salad he was eating was 98 percent pantyhose.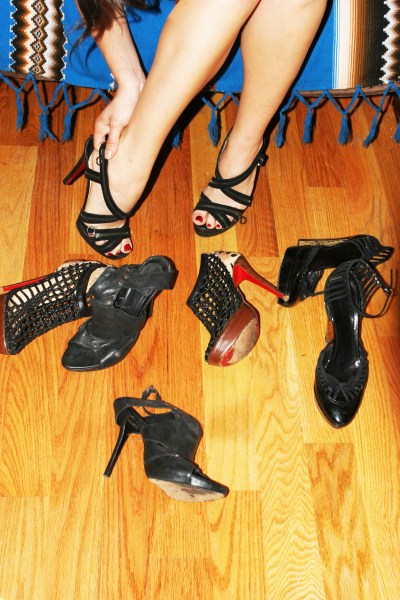 Weddings seem to be a recurring theme in Greg's life, though he has never been married and has no kids. He told me, "I've attended at least four strippers' bachelorette parties. I was the only guy there and was told to drink only their pee all night rather than alcohol."
Even Melissa had a fiancé, which is perhaps why their relationship never crossed the line into actual sex—until after she got married, that is. 
It happened one night, when Greg got into a bad accident and the hospital wouldn't release him unaccompanied. Melissa picked him up and brought him home. Greg told me he was semi-conscious and on Demerol and woke up "to her riding me." 
"I've found that women often find submission attractive, because it breaks all social norms," he said, staring straight into my eyes. I suddenly sensed that he gets way more tail than I ever imagined.
***
From his experiences, Greg breaks down women who collaborate with him into three categories: "Some do it 'cause they like the gifts or money. Those usually last the shortest," he said. "Some do it because it's the taboo, and some actually get turned on by the sensual side, like the foot massages, the toe sucking." 
These days, Greg is in a two-year relationship, part of the parameters of which is that he no longer bring home "souvenirs" from other women, which is probably fair, considering his emotional attachment to such items. 
For instance, he lovingly described a pair of Jimmy Choo flats his girlfriend left with him when she went abroad: "Smell is the strongest trigger for memory," he said. "The shoes are definitely her. It's not like a perfume; it's her."  
It seems what he's after, besides a thrill or humiliation, is genuine human connections. When he makes a pillow of a woman's hosiery to sleep on, it's never a potpourri of different women, but just one, so he can rest in the comfort of her unique scent.  
"I live every day doing what I want to do. I feel more normal and true to myself than anyone else. Society may not be ready for it, but I don't feel like I have to justify it to them," he said. "Someone once said to me, 'What do we have to lose but our souls?' I don't feel like I'm losing my soul."  
The check soon came, and the wealthy, white man paid the bill. We exited the restaurant together, ready to go our separate ways. As I got into a cab on Lafayette Street, I watched Greg heading home, where I knew he would sleep soundly with his face in a pair of Jimmy Choo shoes.