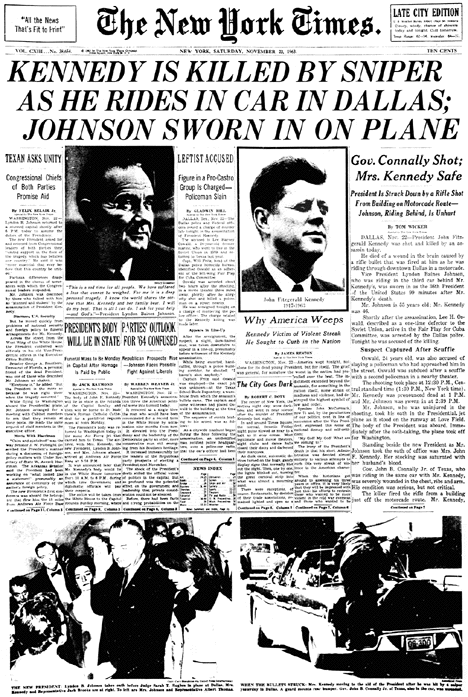 Word spread fast on Nov. 22, 1963, that horrible day 50 years ago. It was warm for late November – 64 degrees – and news broadcasts about John F. Kennedy's assassination spilled through open windows to New York's streets. Everyone stopped to listen.
"I learned about it walking up Broadway from the Hudson tubes – the PATH line – and seeing everybody leaning over their car radios," said New York Herald Tribune reporter Mickey Carroll, who was on his way to work. At Aqueduct racetrack in Queens, the assassination replaced the betting odds as the main conversation topic just 15 minutes after Lee Harvey Oswald fired at the limousine carrying the president and Texas Gov. John Connally.
"Through the head," one horseplayer said to another. "You're playing me off the wall," said his companion.
"No, I'm not," said the first man. "Him and the governor. I just heard it."
Just about everyone who was alive then knows where they were when they heard the news. How they came to hear – decades before the Internet stitched up the world so that news moves at the speed of light – is itself a remarkable story. Oswald fired at 12:30 p.m. Dallas time.
Four minutes later, the United Press International wire reported: "Three shots were fired at President Kennedy's motorcade in downtown Dallas."
Five minutes after that, at 12:39 p.m., UPI moved a flash: "Kennedy seriously wounded perhaps seriously perhaps fatally by assassins bullet." Radio relayed the first bulletins. Within minutes, ABC, CBS and NBC began non-stop TV coverage.
Pollsters later found that 68 percent of American adults heard the news within a half-hour of the shooting, and 92 percent knew within 90 minutes. About 47 percent of Americans first heard from radio or TV, and 49 percent heard from other people. When the Aqueduct track announcer finally relayed the news about a half-hour after the first UPI dispatch, "there was no mass reaction because there was nobody in the crowd who hadn't heard already," the Herald Tribune reported. New York had two afternoon papers in those days, the Post and the World-Telegram and Sun, which ran extra editions.
But while the papers were full of details and pictures, they were grabbed up by people who already knew much of what they said. Just 4 percent of the public got their first word of the assassination from newspapers. Reporting was different too. There were no cell phones or cell phone cameras. Reporters struggled to find pay phones or other phones so they could get out the story. A few, like UPI reporter Merriman Smith—an unparalleled hustler—had amazing access to the scene. Smith got right next to the blood-spattered presidential limousine outside Parkland Hospital even before Kennedy was taken to the emergency room, and later witnessed Lyndon Johnson's historic swearing-in aboard Air Force One.
Others, like New York Times reporter Tom Wicker, found themselves relying mostly on second-hand accounts. Amid the bloody chaos of the day, all struggled to put together the biggest story of their lives and tell it to an audience that was grieving for their president and their country and desperate for any bit of news.
12:20 Dallas /1:30 p.m. New York: Shots Fired in Dallas
"It was a balmy, sunny noon as we motored through downtown Dallas behind President Kennedy," wrote Mr. Smith, UPI's White House reporter. Others recall the weather as hot. The presidential limousine was the second car in the motorcade. It carried President Kennedy, his wife Jackie, Mr. Connally, and his wife Nellie. Vice President Lyndon Johnson rode in the motorcade's fourth car. Mr. Smith and Associated Press reporter Jack Bell were in the sixth car, which reporters called the wire car. Mr. Smith was in the front seat, next to the car's radio telephone, a position that would prove crucial to his breaking the story. Further back, two buses carried the rest of the reporters, including Robert MacNeil, who at the time was a White House reporter for NBC News. He was close enough to hear the blasts from Oswald's rifle.
"We all said, 'What was that?' There was enough time for us to say 'shot,' and then there were two more shots close together," recalled Mr. MacNeil, former co-anchor of the MacNeil-Lehrer News Hour. From his perch in the wire car, Mr. Smith looked forward and saw pandemonium. Suddenly, the presidential limousine sped away, escorted by motorcycles. Mr. Smith, who owned several guns, knew gunfire when he heard it. He picked up the radio telephone and called the UPI bureau in Dallas, reporting the first bulletin of shots fired. Near the Texas School Book Depository, right before a railway underpass and next to the grassy knoll from where conspiracy theorists believe someone fired a shot, Mr. MacNeil's press bus stopped. He asked the driver to let him out.
"He closed the door and drove on under the underpass, and I was out there," Mr. MacNeil said. "The crowd was making the most incredible screaming noise … it was like all kinds of choirs out of tune. Harsh screaming." Mr. MacNeil ran with some cops up the grassy knoll, which sloped up to a fence.
"A bunch of us crowded up against the fence, and a policeman went over the fence, and I went over too," Mr. MacNeil said. But no one was there. Mr. MacNeil went back over the fence and decided to call in a bulletin. He ran to the book depository, just to the right of the grassy knoll.
"I ran up the steps and as I did, a young guy in shirt sleeves came out. And I said 'Where's the phone?' He said, 'You better ask him,' " pointing to another man. William Manchester, in his book The Death of a President, wrote that Mr. Oswald was the shirt-sleeved man Mr. MacNeil encountered outside the book depository. Mr. Oswald told law enforcement after his arrest that when he left the building, he encountered a blond "secret service agent" who was looking for a phone. Mr. MacNeil's hair was blond in those days.
"It's conceivable that was me," he says now. Not everyone heard the shots. Mr. Wicker, in one of the press buses, wrote later that he saw some of the pandemonium from his seat, and that one of his colleagues said: "The President's car just sped off. Really gunned away." "But that could have happened if someone had thrown a tomato at the President," he reasoned.
12:34 p.m. Dallas /1:34 p.m. New York: UPI Beats AP to the Story
Inside the book depository, a man pointed Mr. MacNeil to an office.
"There was an old black phone there with four Lucite buttons. I got a direct call to NBC." His bulletin said someone fired shots at Mr. Kennedy's motorcade, and that police chased someone up the grassy knoll. At the same minute, Mr. Smith's first dispatch, phoned in from the wire car, moved across UPI's A-wire. After he dictated his bulletin, Mr. Smith hogged the phone, asking the Dallas bureau to read back his copy.
Mr. Bell of AP was apoplectic – he knew Mr. Smith was clobbering him in the wire service war of seconds. He tried to grab the phone. Mr. Smith held on. While Mr. Smith and Mr. Bell fought – and even before Mr. Kennedy, Mr. Connally and their limousine had arrived at Parkland Hospital – newsrooms across the country awakened to the horror in Dallas.
12:36 Dallas /1:36 p.m. New York: 'He's Dead, Smitty'
Just as the presidential limousine arrived at the Parkland emergency room, ABC Radio cut in to its programming with the UPI report, the first broadcast network to get the word out. The wire car pulled up just after the presidential limo. Mr. Smith ran up to the limousine and saw the carnage – Mr. Kennedy was shot in the head.
"The president was face down on the back seat. Mrs. Kennedy made a cradle of her arms around the president's head and bent over him as if she were whispering to him," he wrote. Governor Connally was on his back on the floor of the car. Mr. Smith turned to Clint Hill, Jackie Kennedy's secret service agent.
"How badly was he hit, Clint?" Mr. Smith asked. "He's dead, Smitty," Mr. Hill replied. Mr. Smith ran inside to an emergency room cashier's cage and grabbed a phone. He called in his second bulletin – saying Mr. Kennedy was wounded "perhaps seriously perhaps fatally" – and then a third detailed dispatch quoting Mr. Hill by name as saying: "He's dead." There was no anonymous sourcing of Mr. Smith's scoop.
12:40 p.m. Dallas / 1:40 p.m. New York: On CBS, As the World Turns Interrupted
Now the news spread by television. CBS interrupted the soap opera "As The World Turns" with a slide that said "CBS News Bulletin."
"In Dallas, Texas three shots were fired at President Kennedy's motorcade in downtown Dallas … United Press says that the wounds for President Kennedy perhaps could be fatal," Walter Cronkite said, off screen. CBS used a bulletin slide because TV studio cameras in those days needed 20 minutes to warm up. There was no time for a live picture. "As The World Turns" was broadcast live in those days. The actors kept playing their roles and completed the show, unaware until afterwards that their performance was interrupted and that Kennedy was shot. The Times newsroom on West 43rd Street got the news as Cronkite went on the air.
"The first decisions made by the editors were not philosophical. They were logistic. We had to get more men to the scene – and fast," wrote Harrison Salisbury, the chief Times national correspondent. The editors started dispatching Times reporters from around the country. Until they arrived, Mr. Wicker would have to cover the story on his own.
12:45 p.m. Dallas /1:45 p.m. New York: NBC Audiences Get the News
NBC TV finally went on the air with the news – five minutes after CBS – with Don Pardo speaking over a bulletin slide. On WNBC, that meant interrupting a rerun of a sitcom called "Bachelor Father." At that hour, NBC wasn't running national programming. The news also spread by telephone. Mayor Robert Wagner heard about the assassination in a call from his secretary while he was eating lunch with friends at the Lotos Club, a gentleman's club on East 66th Street.
"It's a terrible tragedy, and a personal one for me since he was an old friend," the mayor said. Later, he stopped to pray at the nearby St. Vincent Ferrer Roman Catholic Church. Former President Dwight Eisenhower also heard the news over lunch, which he was sharing with John Hay Whitney, the editor and publisher of the Herald Tribune. It seems incredible that Mr. Wicker's press bus continued "at its stately pace" to the Dallas Trade Mart, a large hall where the President was to deliver a luncheon speech.
"At the Trade Mart, rumor was sweeping the hundreds of Texans already eating their lunch. It was the only rumor that I had ever seen; it was moving across that crowd like a wind over a wheat field," Mr. Wicker wrote. The 35 or so reporters on the bus went to the press area set aside for them.
"We were hardly there when Marianne Means of Hearst Headline Service hung up a telephone, ran to a group of us, and said, 'The President's been shot. He's at Parkland Hospital.' " Mr. Wicker and his colleagues ran back outside and reboarded the press bus, which headed for Parkland, about a mile away.
Back in New York, Mr. Carroll arrived at the Herald Tribune building on West 41st Street. Buddy Weiss, the Trib's city editor, ordered Mr. Carroll to head for Dallas on a special American Airlines charter flight set up for the city's media. Mr. Weiss scooped all the money from the newsroom's cash drawer – no ATMs in those days – and told Mr. Carroll the cash was to support him, star reporter Bob Bird, and columnist Jimmy Breslin, who were on their way to the airport.
12:47 p.m. Dallas/1:47 p.m. New York: UPI's Merriman Smith Crushes It
Mr. Oswald was making his escape. He'd fled by city bus and foot to a Dallas Greyhound terminal. Now he got into a taxi, which he rode to within a few blocks of his rooming house. Outside the book depository, Mr. MacNeil overheard on a motorcycle officer's radio that several wounded people were taken to Parkland. So he offered a motorist $5 to drive him there. They raced through stoplights. Mr. MacNeil told the driver NBC would cover his traffic fines.
"I got to the hospital before the major part of the press corps," he said. He peered in to the back of the limousine. "There were Jackie's roses spread over the seat."
"I walked to the emergency room through the swinging doors to the nurses' desk. There was Merriman Smith of UPI dictating a story," Mr. MacNeil said. "There were nurses pulling at his jacket saying 'You can't use this phone.' " A Dallas TV reporter asked Mr. Smith if he could borrow the phone.
"He promised me that he'd put the phone where the sun didn't shine if I didn't leave him alone," the reporter said later. Mr. Smith won a Pulitzer Prize for his work that day. His competitors at AP cratered under the pressure. One of Mr. Bell's first dispatches was badly garbled by a teletype operator, and because he wasn't a White House regular he didn't know officials and Secret Service agents as well as Mr. Smith. AP also wrongly reported that Johnson was injured and that a Secret Service agent was killed.
"All afternoon the Associated Press was a source of misleading and inaccurate reports," Mr. Manchester wrote.
1 p.m. Dallas / 2 p.m. New York: Official Time of Death
Doctors set 1 p.m. as the official time of death for President Kennedy, though reporters decided the time was arbitrary. "Mr. Kennedy was probably killed instantly," Mr. Wicker wrote. "His body, as a physical mechanism, however, continued to flicker an occasional pulse and heartbeat."
1:27 Dallas / 2:27 p.m. New York: Last Rites
Jerry terHorst of the Detroit News was among a group of reporters at Parkland talking to a pair of Catholic priests. He signaled Sid Davis, a radio reporter for Westinghouse Broadcasting, to come listen.
"I heard the priest say, 'He's dead all right. I just delivered the last rites.' " Mr. Davis ran back to his phone and checked with his boss.
"It was decided equally between the two of us that we would wait for the official announcement," he said. The priests' report was more confirmation of what everybody already knew. Mr. Smith's initial reports made it seem likely that Kennedy was dead, and the TV networks carried unofficial reports that he had died based on sources at the hospital and among Dallas cops.
1:33 p.m. Dallas/2:33 p.m. New York: Official Statement
Mac Kilduff, an assistant press secretary, delivered the official statement in a Parkland Hospital nursing classroom.
"President John F. Kennedy died at approximately 1 o'clock Central Standard Time today here in Dallas. He died of a gunshot wound in the brain. I have no other details regarding the assassination of the President." Mr. MacNeil recalled:
"Kilduff got behind the desk, with tears streaming down his face." The reporters rushed to the phones. Mr. Wicker called his editors in New York.
"I proposed to write one long story as quickly as I could, throwing in everything I could learn. On the desk they could cut it up as they needed – throwing part into other stories, putting other facts into mine. But I would file a straight narrative without worrying about their editing needs."
1:38 p.m. Dallas / 2:38 p.m. New York: A Nation in Shock
Mr. Cronkite, by now before a camera in CBS's New York newsroom, delivered the news.
"From Dallas, Texas, the flash, apparently official.  President Kennedy died at 1 p.m. Central Standard Time, 2 o'clock Eastern Standard Time, some 38 minutes ago." Cronkite took off his glasses as he checked the time on the newsroom clock. He paused for a beat before he went back to reading more reports about the assassination. It's hard to overstate the shock felt by nearly everyone.
"What's going to happen to the country?" Rose Del Franco of the Bronx asked the World-Telegram. Grown men wept – even Mr. Wicker choked up as he dictated his copy. Doctors and nurses gave sedatives to hospital patients overcome with grief. The city's phone system broke down as people called one another to spread the news. A crowd gathered in front of AP headquarters in Rockefeller Center, where a teletype machine was displayed in a window. Those at the window read the bulletins aloud for hundreds of others further back.
1:50 p.m. Dallas / 2:50 p.m. New York: Oswald Arrest Barely Makes New York Papers
Mr. Oswald was arrested in a movie theater by cops who suspected him of killing a Dallas patrol officer, J.D. Tippit, in a confrontation 35 minutes earlier.
"I protest this police brutality!" he shouted as he was taken out. News of Oswald's arrest barely made the New York afternoon papers. The World-Telegram and Sun's All Sports Final edition – which bore a giant headline, 'PRESIDENT SHOT DEAD" – tucked an eight-paragraph story about the Tippit shooting on an inside page. The story wrongly said Tippit died chasing Oswald into the theater. It didn't name Oswald, but it did say Tippit's shooter was suspected in Kennedy's death.
Much of the paper's coverage was based on Mr. Smith's UPI dispatches. The World-Telegram also ran a picture page with photos of Kennedy and his family in happier times. The Post also hustled out an extra, with the headline "JFK SHOT TO DEATH" and several pages of stories, including a mainbar put together by Helen Dudar, the paper's star reporter. The back page had a picture of Mr. and Mrs. Kennedy before the shooting.
2:08 p.m. Dallas/3:08 p.m. New York: Jackie Emerges from Hospital
Mr. Kennedy's coffin was taken from the Parkland emergency room.
"Mrs. Kennedy walked by the coffin, her hand on it, her head down, her hat gone, her dress and stockings spattered. She got into the hearse with the coffin. The staff men crowded into cars and followed. That was just about the only eyewitness matter that I got with my own eyes that entire afternoon," Mr. Wicker said. Mr. Davis was on the phone broadcasting when Jiggs Fauver, a White House transportation officer, grabbed him and told him he was needed for a press pool. The pools are common practice at the White House when it's not possible for dozens of reporters to attend an event. Pool reporters are obligated to tell colleagues who are not present everything they see and hear. Mr. Davis objected. Pool duty rotated among the reporters, and it wasn't his turn.
"He said, 'You've got to. We are leaving now.' So he grabbed me and pulled me – he had my suit jacket." The others in the pool were Mr. Smith and Charles Roberts, a reporter for Newsweek.
"He took all three of us downstairs to a waiting police car – an unmarked Dallas police car. There was an officer at the wheel. He threw me in the back seat." The car sped away at 60 to 70 mph.
"We ended up at the airport," Mr. Davis said.
2:15 p.m. Dallas / 3:15 p.m. New York: Reporters Climb onto Air Force One
"As we piled out of the car on the edge of the runway about 200 yards from the presidential aircraft, Kilduff spotted us and motioned for us to hurry," Mr. Smith wrote. "We trotted to him and he said the plane could take two pool men to Washington; that Johnson was about to take the oath of office aboard the plane and would take off immediately thereafter."
The hearse carrying President Kennedy's body and Mrs. Kennedy got to Love Field just before the reporters. Frantic Air Force One crewmembers removed seats and cut away a partition in the back of the passenger compartment to make room for the coffin – they would not take it home to Washington in the baggage hold. The reporters went up the plane's front stairs. Inside, the shades were drawn.
"It was stifling hot," Mr. Davis said. Mr. Johnson told his longtime secretary Marie Fehmer: "I've lived a week since this morning."
2:38 p.m. Dallas / 3:38 p.m. New York: Johnson Takes the Oath
Mr. Johnson put his left hand on a prayer book an aide found in President Kennedy's Air Force One cabin, raised his right hand, and took the oath: "I do solemnly swear that I will faithfully execute the Office of President of the United States, and will to the best of my ability to preserve, protect and defend the Constitution of the United States." Mrs. Kennedy was next to Mr. Johnson, turned slightly toward him so the bloodstains from her husband's wounds would not show up in the official photo.
"Now, let's get airborne," Mr. Johnson said. The three reporters quickly compared notes. Mr. Davis volunteered to stay behind in Dallas and brief the other journalists. As Mr. Davis went down the plane's stairs, Mr. Smith called behind him: "It was 2:39 Central Standard Time." Mr. Smith had decided the reporters were wrong to conclude that the swearing in occurred at 2:38 p.m. But Mr. Davis believed the oath occurred at 2:38 p.m., and that's what he told the other reporters when he delivered the pool report.
Mr. Wicker said Mr. Davis's report was "magnificent" and "gave a picture that so far as I know was complete and accurate" that he was able to use in his story for The Times. The time of the swearing-in went down in history as 2:38 p.m. – but some papers, including the Daily News, heard otherwise and went with 2:39. Mr. Davis's account angered Mr. Smith. That night, back in Washington at the White House press room, "Smitty was waiting for me … He practically put a hammer lock on me. 'You SOB! I told you it was 2:39!'" Mr. Davis recalled. "Smitty was always very concerned about times and sequences."
Sunday, November 24, 11:21 a.m. Dallas/12:21 p.m. New York: Oswald Shot
The New York papers were full of assassination news. In The Post, Nora Ephron got a full page for a background story about the women in the Kennedy family.
"The Kennedys were born to good looks, good spirits, enormous wealth; everything, it seems, except an immunity to tragedy," she wrote. On the way to Dallas, Mr. Breslin had offered an idea to Mr. Carroll: "Do Oswald, do the background on the guy. That'll be your story."
"It was a good idea," Mr. Carroll said. So in Sunday's Herald Tribune, Mr. Carroll had a profile of Mr. Oswald, built around a visit to the killer's rooming house.
"His fellow roomers were sitting in the living room watching television about the assassination," Mr. Carroll said. "The landlady said, 'You want to see his room?' " It was "a shabby little alcove." Mr. Carroll was surprised there were no police at the boarding house, and no effort to protect any evidence that might still be there.
"Not that I found anything," he said. "You'd expect them to button it down, but they hadn't done it." The police also hadn't buttoned down their own headquarters. Reporters had nearly free run of the building.
"The Dallas police – they were courteous. They were Texas kind of polite people," Mr. Carroll said. "If there'd been a normal murder, and a few reporters had shown up, they'd let them in and handle it." For the assassination, "they just did the same thing. But this time there were people on every airplane coming to Dallas. The place was mobbed." Officers were walking Mr. Oswald past a group of reporters in Dallas police headquarters when Jack Ruby, a nightclub owner well known to the Dallas cops, stepped forward and shot him in the stomach.
"He's been shot — Lee Oswald has been shot! There is panic and pandemonium! We see little in the utter confusion!" shouted Tom Pettit, a reporter for NBC, the only network to broadcast Mr. Oswald's murder live. Dallas Times Herald photographer Bob Jackson got the best picture that day – it shows Mr. Oswald wincing as the bullet hit him. Another shot, by Dallas Morning News photographer Jack Beers, would have been the best any other day – it shows Mr. Ruby approaching Mr. Oswald, gun drawn, a split second before he fired. Mr. Carroll is in Mr. Beers' picture, standing against a wall to Mr. Oswald's left.
"Oswald is not aware he's coming," Mr. Carroll said. "Ike Pappas [of CBS News] is just putting his microphone out." Before Mr. Ruby fired, Mr. Pappas asked Mr. Oswald: "Do you have anything to say in your defense?" The assassination didn't make any reporter's career. Mr. Breslin wrote a pair of brilliant columns in the Herald Tribune that week – one about Mr. Kennedy's medical treatment at Parkland, and another about a man who dug Mr. Kennedy's grave at Arlington Cemetery that is still read by journalism students. But he was already a star. Mr. Wicker, Mr. MacNeil, Mr. Davis and Mr. Smith were White House reporters whose careers were already established or on upward trajectories. (Newspaper readers nowadays know Mr. Carroll as the director of the Quinnipiac poll.)
The Kennedy story would be covered differently today. For one thing, reporters have less access. It's hard to imagine an wire reporter could get anywhere near as close to the presidential limo as Mr. Smith did that day, or that cops anywhere would let as many journalists into secure areas of a police station. Communication is faster. Hundreds of on-the-scene tweets would be built up into Storifys. Web servers would groan under the weight of bloggers' I-was-there accounts. Abraham Zapruder, a spectator that day in Dallas, made the only known movie of Kennedy's assassination. Today the videos would surely number in the hundreds.
"Now if something happens in Helsinki, it's on New York television in about five minutes," said Mr. Carroll. Mr. MacNeil does not fear the deluge. If it happens again, he said, the profusion of media outlets – including the tabloid kind – might not have the effect people think. "When an event of absolute, momentous significance happens, everybody sobers up," he said.
Often, Mr. MacNeil said, reporters make mountains out of molehills, hyping stories that don't deserve it. That wasn't a problem with the Kennedy assassination. "When you have a real mountain to climb as a reporter, you don't have to hype it."