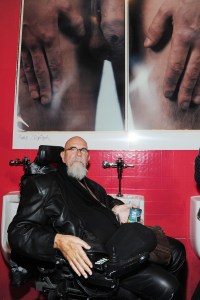 Area, the famed 1980s nightclub that featured Andy Warhol sculptures, Keith Haring murals and a deejay named Jean-Michel Basquiat, was a restless nightclub. For one, it only lasted a few years, from 1983 to 1987. Every six weeks, the owners would enlist their artist friends to completely overhaul the Tribeca space and create a new place from scratch. There were taxidermied rhinos during the "Containment" period and an indoor lap pool during the "Sports" period. And then of course, there was a bar in the bathroom. It was the club's epicenter of cool, Area in microcosm, with photographers popping flashbulbs and Chuck Close artwork hanging haphazardly. Outside, hordes of gussied-up kids were praying they could join Madonna in the latrines.
Alas, in a New York where excess sugar and salt are public enemies, a club so soaked in cigarettes, sex and cocaine can't really fly today—at least not for more than two days. Last week, the Hole gallery on Bowery attempted to recreate a sort-of Area Greatest Hits to celebrate the publication of a new book, Area: 1983-1987, a gargantuan coffee-table tome stuffed with pictures of people such as Grace Jones, Roy Lichtenstein and John F. Kennedy Jr. at one of the club's epic parties.
So did this new version of Area succeed? Well, there was indeed a bar in the bathroom, with an enormous Chuck Close picture of a penis hung above the urinals, a nod to what people are supposed to do in bathrooms. Sandy Kim, the Downtown photographer of the moment, was shooting pictures of the people who came in.
"They were notorious for the bar in the bathroom," Jeffrey Deitch, the curator, told us. "There was a photographer in the Area bathroom for nearly three years! Now, we wanted to include some of the people who are active now who weren't around then. Oh, hi, Julian!"
Julian Schnabel approached Mr. Deitch, so we asked what he thought of the attempt to bring Area back from the dead.
"There are some beautiful things here," said Mr. Schnabel, before walking away.
Mr. Deitch turned back to us, standing in front of a few young men throwing Jell-O shots into their mouths. We asked him if he was enjoying his New York homecoming after a controversial and short-lived stint as the director of the Museum of Contemporary Art in Los Angeles
"I love being back," he said. "I never left really, I never left spiritually."
Instead of the Ramones, who were one-time regulars, scuzz-punkers Black Lips were hanging out drinking with Matt Koshak of the band Starred. Oh, and did we mention the naked people? There were a bunch of naked people in masks running around, and in the basement, visible through a transparent part of the floor, was a woman getting her nipples teased by metal claws.
In another room, there was a painting jerry-rigged to a metal contraption that kept emitting a loud clanking noise and dropping the painting to the ground, beside a giant portrait of Andy Warhol. (There were also Warhol look-alikes in white wigs standing in the display window by the front door.)
"It was at an event called the New Music Awards, to which I was invited by Michael Stipe," said Todd Eberle, who snapped the picture of Andy. "I moved to New York because Andy Warhol lived here. He was such a fixture. You would see him everywhere."
After the nostalgia-soaked scene at The Hole, the party continued across the street to the Bowery Hotel, where the back patio had been transformed into a surreal and seedy sin den. Strippers wearing plastic cones around their necks grinded on each other; mirrors were covered in Scarface-size piles of (fake) blow. Area habitués like Calvin Klein, Glenn O'Brien and Jay McInerney milled around.
Eventually, we bumped into Eric Goode, the co-author of the Area book (and one of the club's founders), with his sister, Jennifer, who was creative director for the club.
"You're about the age that I was when I did Area," Mr. Goode said as we sat on a bench outside the Bowery Hotel (which he helped open, as it happened). "It's a very different landscape today. The freedom that we had then doesn't exist today on so many levels. You could pretty much do anything and get away with it. Everything we did at Area you couldn't do it today."
When the party ended, it was barely after midnight.