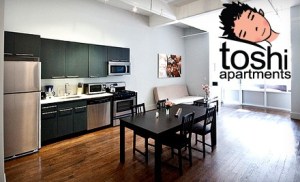 Toshi, the party promoter/actor/owner of Smart Apartments LLC ("Hotel Toshi") has to cough up $1 million to the city of New York as part of his settlement to put a halt on his brand of illegal, short-term rentals in residential spaces, which had flourished in the age of Airbnb.
The city sued Smart Apartments in October as part of their crackdown of 50 buildings with units that had been converted into hostels to turn out a profit with out-of-town tourists (as opposed to long-term leasers) without prior approval.

According to a statement from Mayor Bloomberg:
"Unregulated illegal hotels are unsafe and pose a danger to the community and those who unwittingly use them. Today's settlement will remove dangerous and illegal conditions, and ensure we continue to safeguard the quality-of-life of both residents and tourists in our city."
When we wrote about Toshi last September, the city was in the middle of closing its loopholes and clarifying its language to "by explicitly defining transient — and therefore, illegal — occupancy as any period of time less than 30 days," according to TheVillager.com.
The state had, earlier in the year, made it illegal to rent Class A residential units for less than 30 days, but the fines charged to people like Toshi–who ran an entire operations out of several housing units, effectively disrupting the actual residents of the buildings with bedbugs, noise complaints and unsafe living conditions– had not yet become high enough to deter some from profiting.
We actually have Toshi to thank for some of the heat brought on Airbnb, since his (and a few others) egregious use of the service as a quick-buck business practice–essentially "flipping" apartments by having landlords lease them out to the Smart Apartments, which would then make a profit by renting them out several nights a week at rates lower than that of a hotel–are what attracted the city and Bloomberg's notice to the issue.
Mr. Bloomberg told The Wall Street Journal: "With this lawsuit, we are sending a clear message to operators of all illegal hotels: Our administration will remain vigilant in its commitment to combating this public safety problem."
In February a judge ruled in favor of the city in its case against the company's owner.
According to The Real Deal, Justice Arthur Engoron agreed that the operation constituted a public nuisance:
"Whether or not, in our cynical age, most people would consider engaging in illegal activity as a plus, minus or neutral, they have a right to know whether it is or is not [illegal]," he said. He added that buildings that operate as short-term residences had by necessity much stricter fire safety standards, and since residential apartment units are not required to adhere to these standards, it was dangerous to operate them as short-term rentals.
Now, forced to pay a million bucks to the city, Toshi might have to take the chunk of cash out of his legit business: The Flatiron Hotel, which also goes by the name Toshi's Living Room and Penthouse.
Groupon.com's deal for Toshi Apartments has likewise expired.