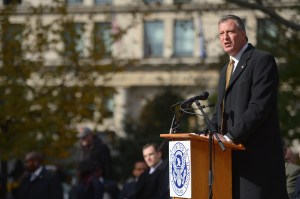 What's going on behind closed doors as Bill de Blasio's transition team is hunkering down to decide who will take the reins of City Hall come January?
Politicker spoke to the city's top mayoral transition expert for insight into the process that will take place over the coming days.
According to Nathan Leventhal, who oversaw both Michael Bloomberg and David Dinkins's transition teams, administrative transitions generally include two distinct processes. In addition to the much-speculated-about work filling dozens of positions, from deputy mayors to agency commissioners, they must also begin the work of getting the new team up to speed on the substantive issues facing the next administration, setting long-term and short-term priorities.
When it comes to building a transition team, there can be a great deal of variation from mayor to mayor. Mr. Dinkins, for instance, appointed 148 people from various sectors, arranged in five committees, to help him recruit talent, while former Mayor Rudy Giuliani appointed a team of about 20 people, composed mostly of prominent campaign supporters and donors, according to reports.
Mr. Bloomberg, a billionaire businessman with no experience in municipal politics, fell somewhere in the middle size-wise, assembling a large-50-plus member transition team that included a combination of business, academic and government experience, "from the president of a conservative think tank to the chief of a gay rights group," the Daily News noted at the time.
Mr. Bloomberg's team soon divided into working groups dealing with specific policy areas, such as human services, and groups would meet to brainstorm names, sift through unsolicited resumes and vet potential hires. But the "fun part," Mr. Leventhal said, was coming up with people he thought would be perfect for certain posts, but had never worked in government before. Among the first names he presented to the mayor-elect were Michael Cardozo, who would become the well-respected corporation counsel for the government of New York City, and Daniel Doctoroff, who would become Deputy Mayor of Economic Development and now serves as CEO of Bloomberg L.P.
"There's a natural distinction in that Bloomberg came into office with no real political I.O.U.'s and certainly no financial I.O.U.'s, so his transition team was pretty much devoid of those things," Mr. Leventhal said in a recent phone interview. "We wound up bringing in a number of people who, like Bloomberg, had not been in government before … I think it's generally believed that his selections were about the best of any administration in recent times because he was so open."
Mr. de Blasio, who has thus far appointed two transition co-chairs, an executive director and a deputy, has not expressed the same openness to non-government names. He recently told the New York Times that, while he would be open to considering some people who work in the private sector, he won't be actively recruiting them. "I think people who understand government run government best. There's a mythology in this country about the C.E.O. or the general who comes in and they're going to become the schools chancellor, or they're going to, you know, run the transit authority or whatever, and it rarely works. And it rarely works for a reason: because the skills just aren't transferable. This is a very distinct playing field, especially here," he told the paper.
For his part, Mr. Leventhal said that, so far, the signs coming from Mr. de Blasio's team are good. He pointed to Mr. de Blasio's decision to appoint as co-chair Carl Weisbrod–a well-known name in city government and the business world he couldn't praise enough.
"De Blasio's much too smart to get caught" in the trap of appointing inexperienced friends to top posts, he said. "I think the best transitions are the ones where people are selected and issues are selected on the merits and without preconceived notions. And I think they're going to be looking for the best possible people."