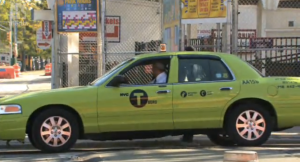 A turf war has emerged among the city's new lime green taxi drivers and the outer boroughs' stable of gypsy cabs.
Livery cab drivers have allegedly taken to browbeating and whacking the new vehicles that dare to join them in taxi queues, according to the Post. In Brooklyn, several skirmishes have broken out in front of the Barclays Center, which has long been the domain of the black, often unlicensed livery car.
"[He] came and told me I had to leave," one bullied driver, who has since avoided the area, told the paper. "I tried to drive away because I don't want to fight, and he kicked my tire. He spit at my car."
Amid the stress of traffic and jaywalking pedestrians, it seems that taxi drivers of any stripe should be able to find common ground, but gypsy drivers already have to contend with yellow cab drivers, who rule the prized Manhattan grid.
"A yellow-cab driver might let another yellow-cab driver [cut] in front of him but not a gypsy cab," yellow-cab driver Jafar Abukar-Bright, 48, told the Post, adding that gypsy-cab drivers don't let yellow-cab drivers cut in front of them either.
One such driver complained to the newspaper that the new competition is ruining his life. "I work, but I have nothing. We are poor people. We have to live," he said.
About 1,000 green taxis are now roaming the streets, though they are only allowed to pick up riders in Northern Manhattan and the surrounding boroughs. Five thousand more will join them in March. Here's hoping they can learn to play nice.