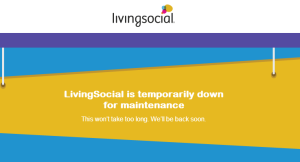 We'd tell you don't look now, but you probably weren't anyway: LivingSocial's website and mobile apps haven't been working for nearly a full day. The daily deals site that isn't called Groupon lost all ability to function as a "scheduled maintenance" outage has reportedly gone awry.
LivingSocial went offline yesterday around 2:45 pm ET, right in the middle of the day for the whole country, with a warning reading "This won't take long." AllThingsD reports that the platform where merchants log in was also inaccessible.
Welp, guess it's taking them longer than expected since the site still isn't back online. After posting two updates on the company's blog explaining why access to half-priced teeth whitening specials have ceased, the site said the blackout is it own fault:
We can let you know now that it is the result of an internal issue, and there is nothing to indicate that this was the result of any external factors. Also, there is nothing that leads us to think that any consumer or merchant data, or financial information has been compromised.
There is good news, though! LivingSocial said it has temporarily suspended sending emails since you can't access the deals anyway. They could really use a coupon for some programmers, huh? HUH?