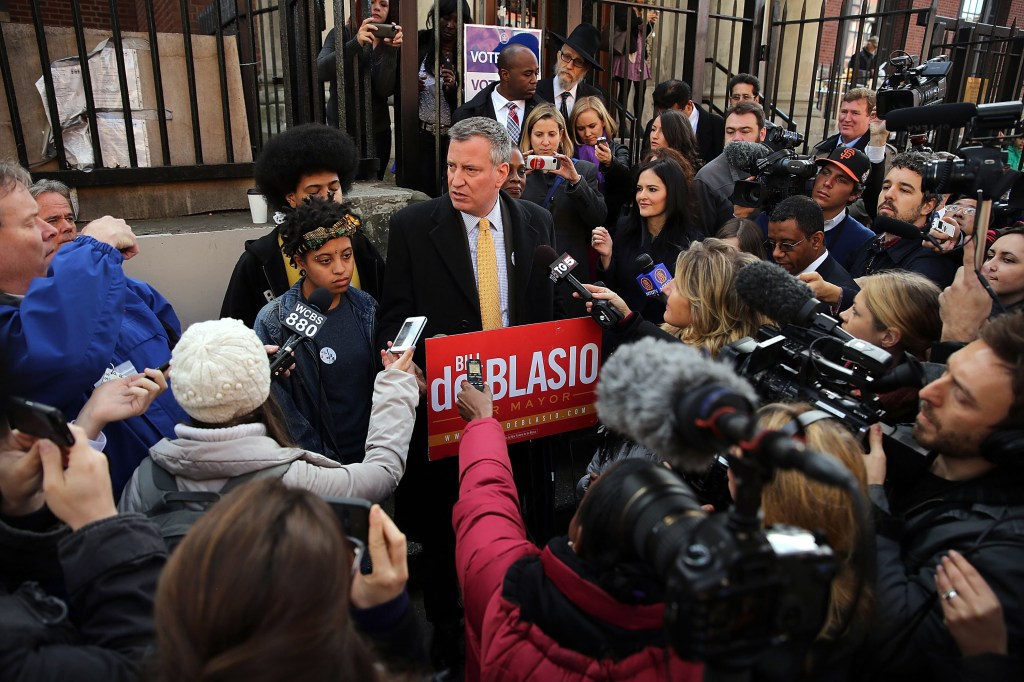 An elated Bill de Blasio was in celebration mode as he voted this morning, kicking off the final day of a mayor's race he is widely expected to win when the polls close tonight.
"This morning is an extraordinary moment for me and my family," Mr. de Blasio told reporters gathered outside of his Park Slope polling precinct. "It's been a very, very long journey. And to get to this morning at our polling site in our neighborhood and to finally cast our vote is an incredibly emotional moment."
Jostling with a dense pack of cameramen–"One question at a time," insisted an aide–and occasionally speaking Italian with the foreign press, Mr. de Blasio also delivered a last-minute message to undecided voters torn between him and his Republican opponent, Joe Lhota.
"This election is a very stark contrast between two very different candidates. Mr. Lhota clearly wants to continue the status quo in this city. I'm calling for fundamental progressive change," he told them. "Many New Yorkers are struggling just to make ends meet and we need to make very serious progressive change … and I'm ready to do it."
And although Mr. de Blasio was 40 minutes late to an event two blocks away from his house, the self-proclaimed night owl insisted he had not overslept.
"I was not sleeping in," he informed Politicker, when asked. "I was surprised by my daughter arriving from 3,000 miles away and we spent some family time together first. Sorry Joe Lhota!'