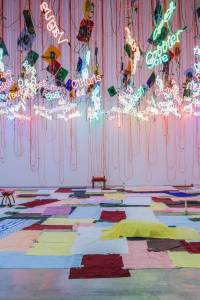 Jason Rhoades died seven years ago at age 41, but the influence of his energetic, sprawling installations and black humor on younger artists like Dawn Kasper, Justin Lowe and Ryan Trecartin give him senior-figure status in contemporary art. Rhoades is currently the subject of a posthumous solo exhibition at the ICA in Philadelphia curated by Ingrid Schaffner. Presenting four painstakingly reconstructed installations spanning the years 1993–2004, "Jason Rhoades, Four Roads" is the first major American museum exhibition of the West Coast artist. Despite the bad pun of the title, the show is well worth a trip to Philly.
Rhoades handled existential themes in a down-home dialect. His idiom is more John Cougar Mellencamp than John Cage. He presents himself as an ordinary guy interested in the stuff of everyday life: Formula One racing, girls, drugs and the mystical. A one-time student of and an occasional collaborator with Los Angeles artist Paul McCarthy, his world is manifestly more approachable: college-boy rock to Mr. McCarthy's nihilist snarl.
The title of the first installation, the room-size Garage Renovation New York (Cherry Makita), 1993, refers to the popular brand of power drill, a fitting homage to the Home Depot bricolage installation style that his work helped popularize. The piece's invented narrative centers on a fictional race car driver and coke dealer's downward spiral ("looses garage door remote"). Race car parts are strewn among ramshackle powder-covered sheetrock structures: "Cherry Bomb TURBO" is stamped on one catalytic converter.
The second installation is the show's knockout: The Creation Myth, 1998, seen here for the first time in the US. The sculpture establishes a fantastical metabolic system by which a massive machine converts timber logs pasted with magazine pornography into smoke rings: sex sublimated into the immaterial ("Yes I can blow smoke rings out my ass" reads Rhoades's drawn diagram). Nineties soft jams play as looped video documentation of '90s viewers reminds you that along with sporting mullets and hair-sprayed ponytails, people in 1998 looked askance at Rhoades's messy installation art.
Sutter's Mill, 2000, a conceptual investigation of labor, has the least tactile and visual appeal. A hut made from bare aluminum pipes sitting atop photographs of vegetables from Rhoades's father's farm, it gets disassembled and reconstructed by the museum's art handlers three times per week.
My Madinah: In pursuit of my ermitage …, 2004, on the same floor, is another success: a 20 x 30-foot field of hot-glued colorful used towels, phallic crystals and tumescent vegetables pointing up toward neon words, which are all euphemisms for female genitalia ("Quiff," "Puss," "Pek-Pek.") My Madinah establishes Rhoades's much-imitated vocabulary of found objects, neon, snaking power cables, dorm-room drug paraphernalia and mystical Americana.
A couple well-chosen smaller works show Rhoades at his funniest. His 2000 edition for Parkett magazine had his conservative parents growing gourds on the rural family farm, painting them bright colors and shipping them off to customers—Rhoades framed the enterprise as a utopian project, "Bottle Pumpkin from Perfect World." A selection of rare video interviews are worth watching. Rhoades is chubby, chatty and sometimes mind-blowingly smart—the art world's David Foster Wallace.
The choice to present just four large works is a good premise executed well, so you almost forgive the exhibit for its flat wall text ("Was Jason Rhoades a misogynist and Islamophobe? No." reads one. Well, that clears that up, thank you.) Still, if you are interested in the lineage of post-Pollock, Fluxus-inspired, neo-Kienholz installation work, this show is not to be missed.
"At one point in your life, you should just go to see one work of art, but don't try and turn it into a tourism of ancient sites. That is not what it is," Rhoades said in an interview a year before his death. His own exhibition provides a great occasion to make such a pilgrimage. (Through Dec. 29)