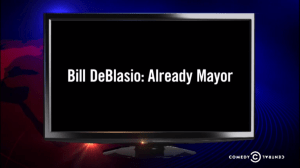 The Daily Show dove back into the mayor's race last night, delivering a rather brutal assessment of Republican Joe Lhota's chances in the polls tonight.
After playing a news clip that described Mr. Lhota trailing Bill de Blasio by a huge margin in a recent poll, host Jon Stewart went on to list other equally dismal contests.
"That's the same amount by which 'hot dog' is beating 'rat on a stick' as New Yorkers' favorite street food," quipped Mr. Stewart. "Joe Lhota is so doing badly that he may actually come in third to drunk, anti-Semitic Times Square Elmo!" (A man in an Elmo costume who was arrested while making anti-Semitic rants was recently sentenced to jail for an extortion attempt.)
Mr. Stewart later took the show to Mr. de Blasio's "victory party" a little early.
"The normal rules of politics don't apply," explained "senior mayoral correspondent" John Oliver. "De Blasio could do pretty much anything. Have you seen his final campaign poster? It's a dick pic, John. It's a dick pic"
"And you must have seen his commercials," he added, letting a faux-campaign commercial play: "This Tuesday, vote for Bill de Blasio–or don't. Either way, he's got this. Bill de Blasio: already the mayor."
Watch the Daily Show segment below: