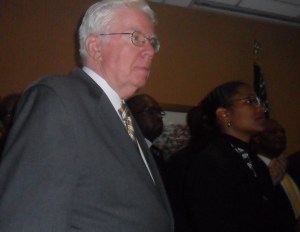 Veteran Assemblyman Tom Giblin (D-34), Montclair, today endorsed East Orange Democratic Party Chairman Leroy Jones, Jr. to helm the Essex County Democratic Committee.
"He has my support to succeed our great Chairman Phil Thigpen," Giblin told PolitickerNJ.com. "Leroy Jones has the experience, expertise and leadership ability to chair our party organization."
A former State Party Chairman, Giblin occupies a district where East Orange is the largest muncipality.
Several Democrats have approached Giblin about taking a run at the chairmanship but the labor leader lawmaker doesn't want the job, and said he is excited to back Jones.
Mr. Thigpen, the organization's long-serving party chairman, died last week at the age of 87.
Essex Democrats will fill the empty chair on Saturday, Nov. 16th and Jones appears to have the critical support he needs to win.
Right now there are no other serious challengers and while Giblin might have been the strongest opposition had he stated his willingness, his move today secures peace in his own district with the powerful local Democratic leader now looking to officially go countywide.