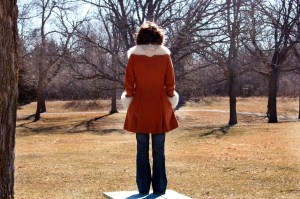 That's it, everyone. Get rid of that Anthropologie pea coat. And those skinny jeans — don't you dare show off those ankles.
Police have decided that the dreadful combination, seen in every GAP store across the nation, is nothing more but a working girl's uniform.
According to arresting documents obtained by the Post, 26-year-old Felicia McGinnis was arrested back in January on prostitution charges linked to her sartorial sins. Citing "revealing" jeans that "outlined the defendant's legs," she apparently had the audacity to match her denim with a pea coat and high heels, leaving police no other choice but to arrest her. Police claim they also they saw her speak to three people within 20 minutes, enough reason to collar her for loitering  for purposes of prostitution.
But Judge Felicia Mennin tossed out the charges, saying that cops failed to produce probable cause for the arrest.
"[The] characterization of the jeans as 'revealing' because they 'outlined the defendant's legs' seems more to be expected in the dress code of a 1950s high school than a criminal-court pleading," the judge wrote in her ruling. "A pea coat is still standard issue to members of the US Navy … and blue jeans, skin-tight or baggy, are practically an American icon."
Police also said that Ms. McGinnis had a long rap sheet for prostitution arrests and the officer that arrested her knew her. She has been arrested 16 times on prostitution-related charges since 2011.
"We disagree with the court's ruling. Based on all the circumstances — which included much more than clothing — there was clearly probable cause to arrest," NYPD spokesman John McCarthy told the Post.
But Mennin wasn't hearing it. Skinny jeans are an American icon. Don't touch the denim.