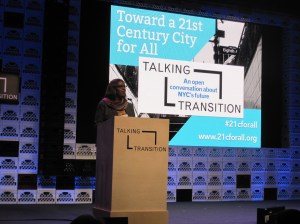 Public Advocate-elect Letitia James said this month's elections represented a "dramatic left turn" for the city–and vowed to hold her predecessor in the advocate's office, Mayor-elect Bill de Blasio, accountable in his new role.
Speaking last night at the "Talking Transition" forum currently underway in a giant tent erected at Canal Street and Varick Street, Ms. James outlined her vision for the public advocate's office, including making sure Mr. de Blasio follows through with his agenda.
"Of course [the office includes] the constitutionally mandated responsibilities of engaging the checks and balances on Mayor Bill de Blasio to ensure that he honors his commitments to maintain and keep us on the path of a progressive city," she told a small audience assembled in the colorfully-lit tent.
In an interview with NY1 filmed before she went on stage, Ms. James was pressed on her close relationship with Mr. de Blasio and how would be able to serve as a check on a close former ally.
"He is an ally and he is a friend. But nonetheless, putting that aside, I have a job to do. And New Yorkers elected me to be checks and balances on Mayor Bill de Blasio," she told the host. "And so it's really critically important that all of the promises that he made, that he honor those commitments. You know, on election day, the City of New York made a left turn, quite a departure form the current administration, and it's really critically important that we honor those commitments and that we lift the bottom up and that we focus on wage inequality and growing income inequality."
And it seems Ms. James's office could look quite different from the one she inherited from Mr. de Blasio. In addition to finding ways to boost her budget, she said she plans to try to raise wages, organize workers, hire an "army of attorneys to assist New Yorkers in accessing the safety net," and push for educational reforms.
She also spoke of several tragedies that have hit close to home in recent days: the death of a nine-year-old boy who was stuck and killed by a car in her council district and the news that a top council aide had committed suicide, hanging himself in his Crown Heights home.
"The issue really is providing services … What can we do to slow down the traffic in the city of New York? What are we doing with regard to mental health services in the city of New York, particularly people who are hurting and who are alone?" she asked.
The tent, which is being funded by a coalition of non-profit groups, including George Soros's Open Society Foundations and the Ford Foundation, will be open through November 23rd.