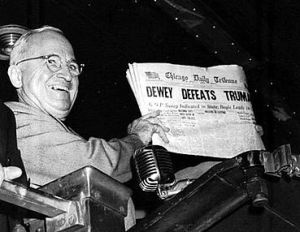 Joe Lhota is pulling a page from the history books in order to argue he'll be pulling an upset in the mayor's race tomorrow night.
In the 1948 presidential election, Harry Truman famously proved pundits wrong when he defeated Thomas Dewey; the Chicago Tribune even printed a "Dewey Defeats Truman" headline on its front page–which Mr. Truman would later hold up with glee. Mr. Lhota, trailing his Democratic opponent by more than 40 points in recent public polls, said today that he expects a similar upset in his race.
"You're going to be pleasantly surprised tomorrow night," Mr. Lhota promised host Mark Simone during a morning radio interview.
But a skeptical Mr. Simone pressed Mr. Lhota, asking if any candidate has ever accomplished the sort of climb that Mr. Lhota would need to achieve in the next 24 hours.
"Yeah sure, you remember Harry Truman?" replied Mr. Lhota. "He was down so significantly the pollsters stopped polling. No one in the world thought that he would be able to beat Tom Dewey. But he sure did. Newspapers were so brazen as to print headlines ahead of schedule saying that Truman had lost. There have been turnarounds like this."
In a brief MSNBC interview with Chuck Todd, Mr. Lhota further predicted he'll "eke" out a victory over Democrat Bill de Blasio once the polls close at 9 p.m. Tuesday.
"I've seen a groundswell of support in all five boroughs in this city," he said. "I think people are going to be surprised tomorrow night. It will be a close race."