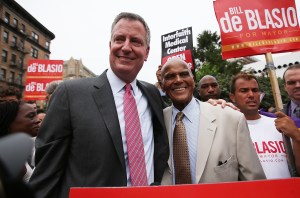 Less than an hour after he called Caribbean singer and civil rights activist Harry Belafonte's comparison of the Koch brothers to the KKK "hateful" and "race-baiting," Republican mayoral hopeful Joe Lhota released a statement today taking more direct aim at his electoral rival, Bill de Blasio.
"It's reprehensible that a candidate for mayor of the City of New York would closely associate himself with an individual who has equated the American government to Al Qaida and the 9/11 hijackers and has a long history of hateful, racist remarks," Mr. Lhota declared.
Mr. de Blasio told reporters the KKK comparison was "the wrong way to talk about" the brothers after the church event today where Mr. Belafonte made the remarks while introducing the candidate, but declined to show any signs of disapproval to the congregation when he took the stage–which Mr. Lhota found unacceptable.
"What's worse, when Bill de Blasio had an opportunity to speak out against his hate speech today, he was silent and instead called Mr. Belafonte 'a treasure to our nation,'" he said.
In his statement this afternoon, Mr. Lhota also called on Mr. de Blasio to more directly repudiate the comparison.
"There is no room in our public discourse for race-baiting, hate speech from anyone–white, black or otherwise. One of our greatest mayors, Ed Koch, denounced Mr. Belafonte and urged other Democrats to do the same. Our public leaders must have the courage and conviction to speak out against unacceptable conduct. Mr. de Blasio had that opportunity and failed. He should immediately denounce Mr. Belafonte's hate speech and call on him to apologize. Anything less would be a disservice to New Yorkers," he added.
Meanwhile, a spokesman for the Koch Companies, who represents the billionaire brothers famous for funding conservative groups with their wealth, echoed Mr. Lhota's condemnation.
"Mr. Belafonte's comments are false and reprehensible. His comments are divisive and destructive, and are indicative of the type of hateful rhetoric that leads to the breakdown of a civil and respectful society," the spokesman, Rob Tappan, said in a statement. "It is unfortunate that he and others choose to make such false comments about Charles Koch and David Koch, who have devoted their lives to advancing tolerance and a free society – where every individual is judged on his or her individual merits and they are free to make decisions about their lives."
One of the brothers, David Koch, recently gave $200,000 to an independent expenditure backing Mr. Lhota.