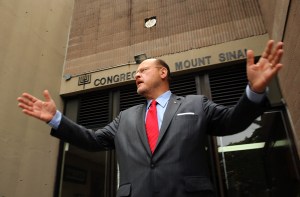 Republican Joe Lhota is celebrating yesterday's court decision that temporarily blocked measures designed to curtail the NYPD's stop-and-frisk policy, arguing the "entire core" of his rival's mayoral campaign had been eviscerated.
Bill de Blasio devoted much of his platform to reforming the controversial police tactic and agreed with the lower court's ruling that it was being implemented in an unconstitutional fashion. Although a higher court still has to hear the city's appeal, Mr. Lhota insisted in a radio and television interview today that Mr. de Blasio's campaign was fundamentally wounded.
"This is an extremely weak issue for Bill de Blasio," Mr. Lhota said on PIX 11. "The entire core of his campaign just fell apart yesterday because he ran the entire primary on stop, question and frisk."
"The reality is, we need to look at this in a rational approach, not in an emotional approach. Look at the facts and come to a conclusion," he added.
The United States Court of Appeals for the Second Circuit stayed an earlier federal ruling that would have ordered several changes to the police department in order to monitor and begin to reform the policy. The city had appealed the initial ruling by Judge Shira Scheindlin, who found the city's current implementation of stop-and-frisk unconstitutional. Ms. Scheindlin had ordered a series reforms like installing an outside monitor for the NYPD.
Though Mr. de Blasio does not want the policing tactic abolished outright, Mr. Lhota attacked him for allegedly waffling on the stop-and-frisk issue.
"Way too many people are just listening to folks out there like Bill de Blasio who are talking about things purely for the sake–it's a continuation of Bill making promises he knows he can't keep," Mr. Lhota charged. "You know, that's really unfortunate."
Mr. de Blasio's campaign, which is far ahead in the polls with just four days before Election Day, did not immediately respond to a request for comment.
Update (11:03 a.m.): Mr. de Blasio's spokeswoman dismissed the remarks.
"Joe Lhota's attacks are–unsurprisingly–false," she said in a statement. "Bill has consistently said that the overuse of stop and frisk erodes the relationship between police and the community, making it harder for cops to do their jobs to keep neighborhoods safe. He will work to end this overuse on day one."