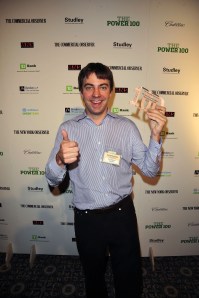 Sunday night, when the rest of the city was tweeting about Homeland and Lady Gaga's Navy Yard performance for Artpop, a piece of actual news managed to break through the static.
"Vox Media acquires Curbed Network for $20-30M," read the Fortune headline linked to by Lindsey Green, fiancée of Lockhart Steele, Phish biographer and founder/president of Curbed LLC.
Mr. Steele has reason to celebrate and not just because he can toast his 40th birthday in January as a millionaire. The sale of his Curbed Network, which includes Eater.com and Racked.com, as well as the titular brand of national and local real estate gossip blogs, will leave Mr. Steele in an editorial capacity overseeing the network of sites he created in 2004, when he was still editorial director of Gawker Media.
"I'm not even sure what we're calling me yet," Mr. Steele told Off the Record. "But one of the things that is really great is that we have approximately 50 people here at Curbed and every single one is joining Vox. Some of these mergers—they aren't lucky."
Vox, a relatively new player on the media scene, currently owns three other niche news entities including websites for sports (SB Nation, with more than 300 affiliated team blogs), tech (TheVerge.com) and gaming (Polygon.com).
The D.C. firm, which recently raised $34 million in funding, was attractive to Mr. Steele precisely because of its new media cred. "A lot of big old media companies, if we went to work there, we'd be trying to teach them how to use digital. Whereas Vox is a purely digital company; they understand it perhaps better than we do."
That's important to Mr. Steele, who plans to use Curbed's new position with Vox to build out his brands even further, with the help, he hinted, of Vox's in-house video studio in Midtown. "I'm not really sure what we're going to be doing with it yet, to be honest," he hedged. "I'm not going to lie to you and say we're about to roll out my competitor of Top Chef tomorrow, like obviously not."
With a Cassandra-like ability to predict future trends in media (but you know, without all that tragedy), Mr. Steele was excited for the direction in which he and VOX CEO Jim Bankoff plan to expand, though he declined to go into specifics. "For the most part, we don't even know yet," he said. But looking over the next several years with brands like Eater and Curbed, Mr. Steele said one needed to only turn on the TV to realize that audiences are hungry for shows about food and home makeovers.
So it was safe to say there'd be no early retirement?
"I don't have 'fuck you' money,' " he alleged. He's not planning on upgrading his digs, either: In July, he and Ms. Greene were finally able to move back to their apartment on the Seaport, nine months after Sandy's floods displaced the couple to Brooklyn. "It was so huge for us psychologically. … Honestly, I'm not sure I could have gone through with the whole sale process if we had to get rid of that place. "
Come on, we needled Mr. Steele, surely there was something he was planning to do to celebrate. Disneyworld, maybe? Actually, said Mr. Steele, he would be in Orlando for the holidays with family, "so it's totally possible."