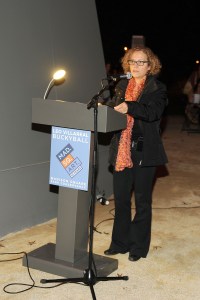 After 12 years as president of the Madison Square Park Conservancy, Debbie Landau is leaving the organization, which runs the park's popular public art program.
Ms. Landau told The Observer that she is leaving to work independently as a public-art adviser. "My plan is to continue what I was doing with Madison Square Park," she said, "giving artists an opportunity to bust out of the white box and giving the public an opportunity to see urban spaces cultivated with art." She said she will be advising museums and other institutions on public art projects, as well as working with artists directly.
In 2002, Ms. Landau co-founded the Madison Square Park Conservancy with restaurateur Danny Meyer and businessman Bill Lukashok. A former founding executive director of the City Parks Foundation and longtime parks advocate, Ms. Landau took on a top-to-bottom renovation of the then-derelict park in 1996 as a capital project before forming the Conservancy. She served as both president and executive director of the Conservancy until earlier this year, when Keats Myer was hired as executive director.
During Ms. Landau's tenure, the park has hosted 27 art exhibitions, including such high-profile projects as, in 2010, Antony Gormley's "Event Horizon," which included 31 life-size figures cast from Mr. Gormley's body. "In a way, ignorance is bliss," Ms. Landau said, looking back on that project. "To think we could install 27 of those figures atop storage buildings and parapets, on the Flatiron Building and on the Empire State Building—if i'd given it too much thought I don't think we would have done it. You have to take the leap and have the faith." She is ending her tenure on a particularly successful note: one of the park's most recent presentations, of a monumental installation made from cords of rope by Orly Genger, is the first one to travel to another venue (the deCordova Sculpture Park and Museum in Lincoln, Mass.).
Ms. Myer will stay on as executive director, and the art program will continue to be curated by the recently-hired senior curator Brooke Kamin Rapaport.