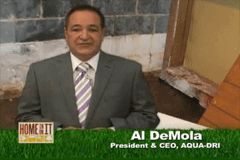 Most people deal with bad press by pretending they haven't seen it or starting a good old-fashioned Twitter feud.
A lawsuit claims that one disgruntled businessman from New Jersey opted to go a different, much quirkier route, by linking journalists' domain names to a porn website specializing in blow job videos.
Al DeMola wasn't happy about the way the Newark Star-Ledger portrayed his waterproofing business in its "Bamboozled" column, XBiz reports. Mr. DeMola allegedly called Editor Kevin Whitmer and told him to stop writing about his business, the lawsuit says, then left him a message "threatening to publish his personal information using '.com names.'"
Mr. Whitmer somehow understood what the flustered handyman meant, and took a look at KevinWhitmer.com. The site redirected him to AllFreeBlowJobs.com. The same thing happened when the Ledger's publisher, Richard Vezza, checked his namesake URL.
XBiz reports that the journos' attorney demanded Mr. DeMola "relinquish the site[s], but he did not." The sites now point users to GoDaddy.com, and the newsmen are seeking $100,000 each in damages plus attorneys' fees.