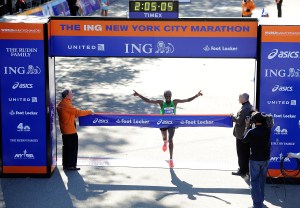 For those not up to running 26.2 miles but want to be part of the excitement, we'll host a 5K this morning for runners of all ages and abilities, taking them through the streets of Manhattan and across the Marathon finish line. I'll be there to cheer on the 5,000 participants, including 11 Olympians.
A total of 4,960 pounds of lasagna, 4,875 pounds of chicken, 678 gallons of tomato sauce, 2.25 acres of basil and arugula, 20,000 bread rolls, and, believe it or not, much more will be served to 15,000 marathoners and guests at our carb-heavy Marathon Eve Dinner.
Marathon Pavilion, Central Park, entrance at West 67th Street and Central Park West, 4-8 p.m., $40, tickets can be purchased at the Fitness Expo
I am stopping by lots of events around the city tonight and will get few hours of sleep before the 3:30 a.m. wake-up call.