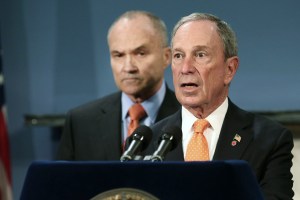 Mayor Michael Bloomberg and Police Commissioner Ray Kelly have a message to critics of stop-and-frisk: We told you so.
The pair appeared this morning on the mayor's weekly radio show with WOR's John Gambling to celebrate a ruling yesterday by the United States Court of Appeals for the Second Circuit, which granted a stay on an earlier federal ruling that would have curtailed the NYPD's controversial policy while an appeal is being considered.
"We were very satisfied with the ruling," said Mr. Bloomberg. "It speaks for itself. It says that, basically, Commissioner Kelly can run the department the way he has been running it with my approval and support for the last 12 years."
"The decision was unanimous. It was unequivocal." he added.
Mr. Bloomberg's police policies became a central issue in the mayor's race, and Judge Shira Scheindlin's ruling had been seen as of one of the many factors that aligned to help Bill de Blasio build the momentum he needed to win the Democratic primary.
Mr. Bloomberg tried to stress the gravity of the ruling. which did not weigh in on the constitutionality of the city's implementation of stop-and-frisk.
"I think it's important to say that judges grants stays if they think there's a high probability that an appeal would be successful," he said, adding that, removing a judge from a case–as the court did with Ms. Scheindlin–was "very, very" rare.
The ruling, he said, also served as vindication for the city's police officers, whom he painted as under attack.
"Our police officers–remember a majority of them are black and Hispanic in this city–they've had their names dragged through the mud over the past year and I think they deserve a lot better than that. These are people that put their lives on the line … and we want them to understand that we support them and we are in conformity with the requirements of the law," he said.
Mr. Kelly echoed the message.
"Yeah, I think it was grossly unfair, as far as the department is concerned. They've done a terrific job and they were unfairly blemished in all of this. And a lot of it just for sheer political purposes," he said. "So maybe this clears up some of that. We'll see."
Mr. Kelly also stressed that the hundreds of thousands of "stop, question and maybe frisks" performed every year amount to just one stop per week per officer.
"We think it is eminently reasonable what's going on in New York City," he added. "We're heartened by this decision."