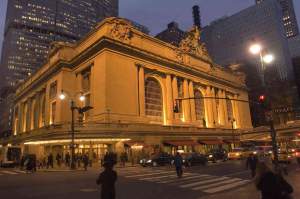 Mayor Bloomberg and the City Planning Commission have presided over 123 rezonings, covering some 11,500 blocks since 2002. But despite his best efforts, ardent appeals and the real estate industry's incredibly enthusiastic support, Mr. Bloomberg will not get his 124th.
The City Council has rejected the mayor's late-breaking, potentially legacy-burnishing and incredibly ambitious plan to rezone the 73 blocks around Grand Central, which would allow for the construction of modern, soaring skyscrapers in the heart of the city's central business district.
Late this afternoon, officials announced that they had failed to reach a deal–despite fervent, last-minute efforts by the Bloomberg administration.
"Creating new jobs in East Midtown – and across all of New York City – is essential. We can and should do more with the commercial corridor around Grand Central … However, a good idea alone is not enough to justify action today," City Council Speaker Christine Quinn and local Councilman Dan Garodnick said in a joint statement. "We should rezone East Midtown, but only when we can do so properly. After extensive negotiations, we have been unable to reach agreement on a number of issues in the proposed plan."
The pair cited a list of concerns, including questions over the price and timing of air rights sales as well as the funding of infrastructure projects–both above and below ground–that community groups say would be needed to accommodate the additional rush of traffic the expansions would bring.
"This is an important plan and it's important to take the time to get it right," Mr. Garodnick told The Observer after the announcement. "The council was operating under a strict clock. We did not have the ability to table this, so that put us in the position we were in. I asked the administration, way in the beginning, to give us six months. I still think that's what we really need."
Indeed, though Mayor Bloomberg proposed a number of changes to placate the community, including residential development, more useful air rights for churches and synagogues, infrastructure improvements paid for upfront by the city, and public space improvements including the construction of an elevated pedestrian pathway around Grand Central, some felt that the many late-breaking changes revealed a seriously flawed plan with one too many cobbled-together fixes rather the kind of coherent, well-considered vision that the district needed.
Community members heralded the decision to table what they referred to as a rushed proposal—Lola Fineklstein, the chair of the multi board task force on Midtown East wrote in a statement that "This is how the public process is designed to work.  The Council recognized what New Yorkers across the city felt: this proposal simply wasn't good enough."
The real estate industry was, unsurprisingly, displeased with the decision.
"We are obviously disappointed in this decision," wrote Real Estate Board of New York president Steve Spinola in a statement (Mr. Spinola also penned an editorial in The Commercial Observer, this newspaper's sister publication, in favor of the rezoning today). "This plan would have created tens of thousands of good paying jobs for New Yorkers in every borough and resulted in tens of millions of dollars in private sector funding for public infrastructure."
The New York Building Congress also released a statement saying that it was "extremely displeased that one of the most far-reaching rezoning proposals in the City's history is not moving forward at this time."
"For New York to remain a global capital, it needs to regenerate its office stock and remain attractive to a variety of national and international businesses.  The area surrounding Grand Central is one of the most highly accessible districts in the world and a perfect location for new Class A office space."
However, Mr. Garodnick emphasized that he and the Council were not opposed to a rezoning; they simply wanted to a better, more well thought out plan. Among the changes Mr. Garodnick said he would like to see were "a more robust infrastructure and public realm program," changing the fixed air rights pricing to pricing that "addresses differences in geography or time" as well as further study of "the proper level of density of Midtown East as compared to other commercial districts in the city."
Mayor-elect Bill de Blasio, who quickly praised the Council's decision in a statement, vowed to present a revised plan for the area by the end of next year.
"For the sake of New York City's long-term economic vitality, Midtown East should be re-zoned to allow the creation of a world-class 21st-century commercial district. But it needs to be done right," he said not long after the decision was announced publicly, pointing to the same concerns about infrastructure and development rights.
"I applaud the City Council for pressing the pause button in order to ensure these concerns are adequately addressed," he said, vowing to formulate his own vision for the city after he takes office on January 1st. "We must continue this process in earnest upon taking office, and I commit to presenting a revised rezoning plan for the area by the end of 2014."