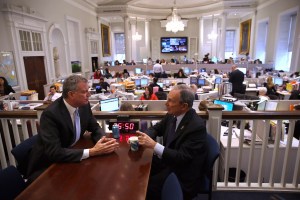 Mayor Michael Bloomberg is getting ready to hold his tongue.
The outgoing chief said this morning that he will stay mum on the incoming Mayor-elect Bill de Blasio's performance–especially during his first year, recalling his own administration's criticism-free experience transitioning after former Mayor Rudy Giuliani.
"In the first year in particular, when you're a new mayor, you just don't need a previous mayor criticizing or their staffs. And Rudy never once did," he said this morning, speaking during his weekly sit-down with WOR's John Gambling. "Rudy was as helpful as could be. That in some senses was the real gift … I think the way he conducted himself after the new administration took over says a lot about his character."
"And I'm sure there were plenty of things I did that he didn't like, that he wanted to stand up there and yell and scream, but he didn't. And I won't. I will not criticize," he vowed. "These jobs are tough enough without an extra voice criticizing ya. And it's easy to criticize from the outside. When you're in there, it's a very different story."
The morning after Mr. de Blasio's decisive victory last Tuesday, the two sat down together at City Hall for an hour-long chat, which Mr. Bloomberg said focused on transition efforts. But Mr. Bloomberg stressed today that his own administration would remain hard-at-work until the final hour.
"We're still gonna run the city up to December 31st at midnight. And that's our obligation to do it and Bill understands that. But having said that," he said, "We can do the planning for the inauguration. We have a staff in place and run City Hall for the moment, so putting the platforms up and the chairs. Bill can decide who to speak and who he wants to seat people … But it would be easier for him if we did that. And so we're going to do that. That's fine with him. Also provide some services for the Super Bowl."
"Other than that, he's gonna take over," he said. "But we want to make sure this is as seamless as transition … I keep saying this–people smile and think that I'm joking, but it' not–I hope his administration is even better than ours. They take what we've left them and build on it."
As for warnings of future minefields, Mr. Bloomberg said that there were few since Mr. de Blasio already knows the ropes.
"Bill is not a novice. He's been the public advocate and he was a city council person before that, so he's familiar with a lot of these things," he said.