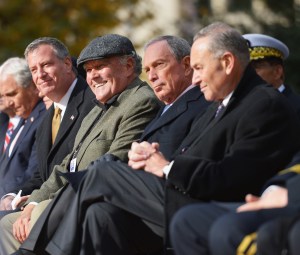 Last week, Mayor Michael Bloomberg and Bill de Blasio, the man who will be replacing him come January, met for the first time since Election Day, staging a photo-op and talking for about an hour.
But despite agreeing "to stay in regular touch," that's been about it in terms of direct communication between the two.
Asked today about their ongoing conversations, Mr. Bloomberg suggested Mr. de Blasio was still on his weekend vacation in Puerto Rico–even though the two were at the same Veterans Day event Monday, sitting just one seat apart.
"I've not spoken to him since. I think we're gonna talk next week or something. He's got plenty of things to do; he's on vacation last time I checked–I'm pretty sure," he said, taking questions during an unrelated press conference on Governors Island.
"He is back?" he clarified when corrected by the reporter, quickly pivoting to argue that it's more important their aides are in conversation. "He doesn't need me calling him during his vacation and he's got his staff and they'll put things together. It's not important as much that Bill and I talk: It's that the staffs talk."
Mr. Bloomberg went on to detail all of the preparations he's done to ensure a smooth transition.
"We've assigned people. We've got space for his transition team. We've turned over an electronic book of every single agency that we've been working for the last six months with–what the short term problems, long term problems are. What the assets are, what the abilities are, where to go to get different things and what kinds of skill sets we think are needed," he said.
"We're doing everything we can do make sure that this is the best transition that anybody's ever had," he added.
Mr. Bloomberg also offered some advice for Mr. de Blasio's transition in the process: "If you build the right team and bring in the right people, then you can really make a difference."