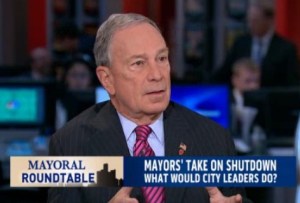 Mayor-elect Bill de Blasio ran his campaign vowing to end the "Tale of Two Cities," making the growing gap between the rich and the poor and rising poverty under the current mayor's tenure centerpieces of his message.
But Mayor Michael Bloomberg, working to cement his legacy, pushed back on those charges today. The mayor released new numbers he'll tout in a speech tonight, showing that poverty went up in every major metropolis while he was in office–except in New York City.
"I think it's fair to say that no American city has battled poverty more directly, or with more determination and innovation, than New York. And while poverty in our city is still much too high, there is no doubt that – without the extraordinary investments we've made – it would be much higher," Mr. Bloomberg is expected to say, according to prepared remarks released by his office.
According to the analysis by the city's Center for Economic Opportunity, 19 of the 20 largest U.S. cities saw increases in their poverty rates over the last 12 years, per numbers in the 2000 Census and 2012 American Community Survey. But as rates rose three percent in El Paso, 17 percent in Philadelphia and 88 percent in Indianapolis, they remained flat here.
The city's poverty rate returned in 2012 to the 21.2 percent it had in 2000–up from 20.9 percent in 2011 and 20.1 percent in 2010. Still, last year's bump meant another 1.7 million New Yorkers fell below the federal poverty level, according to The New York Times, which Mr. Bloomberg is set to address in his speech.
"Of course: poverty is still too high here. And keeping poverty from going up is not enough – we all know that. But having no increase in poverty is a lot better than the significant increases every other major American city has experienced. Sometimes the best offense is a good defense – and that's certainly true in this case," read the remarks, which touted the city's anti-poverty efforts as the more comprehensive and create in the county.
Mr. Bloomberg has remained unusually optimistic about Mr. de Blasio's administration–despite his earlier warnings of  "class warfare" and that the Democrat's policies would drive wealthy taxpayers from the city–replacing his warnings with assurances that the city's best days are ahead.
But that didn't stop one little nudge, courtesy of Mr. Bloomberg's press secretary, Marc La Vorgna, who tweeted a reference to Mr. de Blasio's campaign theme: "19 of nation's top 20 cities saw an increase in poverty rates this century. Guess which one did not #TaleofOneCity."