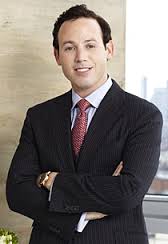 When real estate scion and broker Michael S. Lorber signed on to star in Million Dollar Listing, many thought the move ill-advised—reality TV was a considered a dangerous, if potentially lucrative, move for an unknown up-and-comer, but for the son of Douglas Elliman chairman Howard Lorber, it seemed to offer all of the risk and none of the reward. Then this spring, Mr. Lorber did something that many real estate insiders consider to be even riskier: he decided to broker the sale of his own apartment.
All things considered, Mr. Lorber has emerged relatively unscathed from the two potentially humiliating challenges. He quit the reality TV show after the first season ("It was so stupid," Mr. Lorber told The New York Times, explaining that he hated recreating scenes for the cameras and didn't see much of any uptick in his co-op centric business. "Most of my clients don't watch the show.") And now he's managed to sell his 1,861-square foot condo at 400 East 51st Street for an entirely respectable $2.5 million, according to city records.
True, it's a little less than the $2.79 million he was trying for when he listed the three-bedroom, three-bath spread in April with himself, as well as Douglas Elliman colleagues Vincent Santoro, Eleonora Srugo and Neal Sroka, but it's not a bad price considering that he paid $1.72 million for the place back in 2004. Moreover, Mr. Lorber managed to move the unit right before the holiday real estate slump hit and to get out before the building's tax abatement ends in 2015.
Buying a sponsor unit in the Grand Beekman was a savvy move in the first place. Though a new condo in Beekman Place was unlikely to pay out the kind of dividends a unit in an up-and-coming neighborhood would, it's an established, well-known quantity—much like the building's architect Costas Kondylis. And unlike so many of the nearby co-ops, it's pet and child friendly, with a duplex fitness center and a shared garden.
As for the unit itself, we expect the main sticking point was the condo's current configuration as a one-bedroom, which apparently didn't trouble Cincinnati-based buyer Nolan L. Weinberg. Besides the jumbo master suite, which comes with a dressing room and a limestone master bath with his and her sinks, a walk-in shower and a soaking tub, there is also a study with built-in desk and bookcases, a formal dining room and a "book-lined foyer" (no word on whether or not books were included with the sale).
And while it's considered notoriously difficult to keep a cool head when it comes to selling one's own home, at least there is one major advantage: Mr. Lorber will also be able to collect his own commission on the sale. The extra cash should come in handy for the broker's next risky move, whatever that may be.